Russell Martin defends Norwich team-mate Robert Snodgrass
Russell Martin has urged some of Norwich's home supporters to stop their criticism of winger Robert Snodgrass.
Last Updated: 29/01/14 3:48pm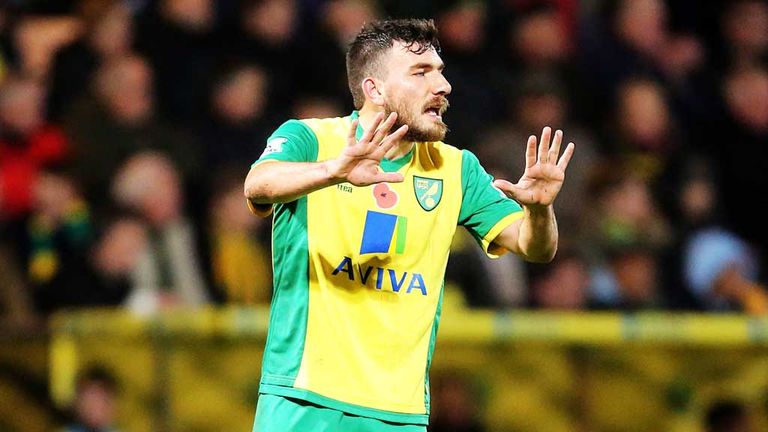 The Scotland international was involved in a heated exchange with some City fans towards the end of the first half of Tuesday's 0-0 draw with Newcastle.
The 26-year-old later signalled an apology to the same section of supporters in the second half of the game, which both teams ended with 10 men after Norwich's Bradley Johnson and Newcastle's Loic Remy were sent off.
Martin, 28, says he understands the frustration of the fans when things are not going well, but defended Snodgrass.
"It was the whole stadium. I felt it, the fans were getting tense," Martin said on Canaries Player.
"Sometimes it is hard for players, especially for Snods, who is on free-kicks and corners, for him to be bang on the money all of the time is tough.
"I feel for him because if it is not on the money, then people do criticise him.
"Snods is a winner, he really cares and is a great lad. Sometimes that frustration does boil over, he gets angry.
"Sometimes it can overstep the mark of what people want to see, but it is an intense game and there is a lot of pressure on things, passions are high and people find it difficult to control themselves.
"He means nothing by it, he has apologised at the end and I felt for him when there were a few sarcastic cheers as he put a cross over for a corner and that is not doing anyone any good.
"But the fans were chanting his name at the end, they were great, he apologised and we move on.
"As a football club we are well known for sticking together, the managers, fans and players, so nothing is going to change there."