The Gaffer: Chris Hughton
Before Sunday's game against his former club, Tottenham Hotspur, Sky Sports met Norwich City manager Chris Hughton to discuss life as a manager in the Premier League, dealing with the spotlight and his coaching principles in an already eventful career
By Interview: Peter Fraser (@SkySportsPeteF) Graphics: Thomas McClure
Last Updated: 25/02/14 9:40am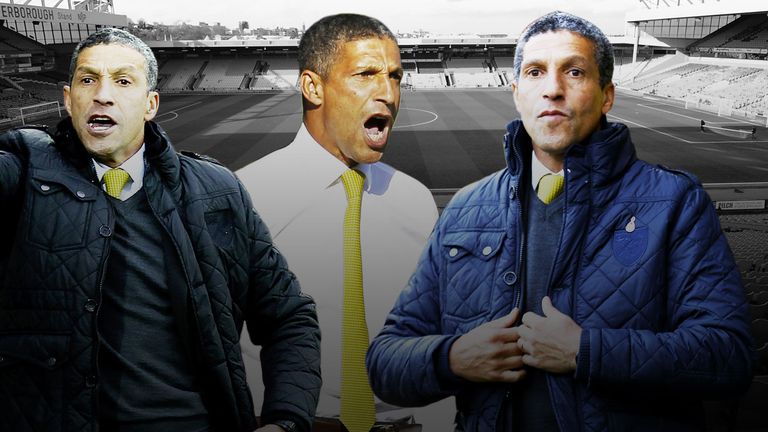 In a football industry in which managers are infamously said to be never more than one game away from the sack, Norwich City's Chris Hughton has had more than a few ups and downs.
This has been epitomised this week by Norwich chief executive David McNally suggesting the club would move swiftly to find the right candidate to replace Hughton if they feared their Premier League status was in jeopardy.
But Hughton, like all bosses, would previously have been all too aware of that pressure at the top after what has already been an eventful, yet relatively short-lived, career in management.
From his initial coaching days in the 1990s to 2000s at Tottenham Hotspur, for whom he had won two FA Cups and one UEFA Cup as a player, the former Republic of Ireland international has served in almost every managerial role possible, varying from different clubs, youth level, reserve team, a first-team caretaker and then permanent boss in his own right.
Hughton built experience among the coaching staffs of the likes of Ossie Ardiles, George Graham, Gerry Francis, Glenn Hoddle, David Pleat, ex-France boss Jacques Santini and Martin Jol at Spurs before moving to Newcastle United in 2009 to work with the likes of Kevin Keegan and then Alan Shearer.
It was also at Newcastle where Hughton got his first break as a permanent manager after impressing at St James' Park in one of his caretaker spells. Having temporarily stepped into the breach after Newcastle's shock relegation from the Premier League, a good start to life in the Championship earned Hughton his full-time contract and he would not disappoint in leading the club out of the on and off-field turmoil and immediately back to the top flight with the second-tier title in record-breaking time.
However, he was controversially sacked by Newcastle in 2010, despite an epic 5-1 destruction derby win over Sunderland back in the Premier League, and then came a short but successful one season as manager at Birmingham City, who he managed to the 2011/12 Championship play-off semi-finals while also competing in Europe.
Hughton's season at Birmingham impressed Premier League Norwich and he accepted their offer to move to Carrow Road in the summer of 2012. He has since remained at Carrow Road to mean he is preparing for Sunday's crucial game against his former club, Tottenham, which can be seen live on Sky Sports 1HD.
Avoiding relegation is the priority for Norwich, who sit just one point above the drop zone ahead of the weekend. But Hughton can be reassured that it is only Mike Walker and Paul Lambert who have better win ratios as Norwich managers in Premier League history.
Hughton also remains widely respected in the Premier League for the dignified manner in which he conducts himself. And Sky Sports discovered as much when meeting the 55-year-old this week at New Horizon Youth Centre close to King's Cross in central London as part of this weekend's #Take5 fundraising partnership between Railway Children and Aviva to discuss the art of being a manager, dealing with the spotlight and his coaching principles.
It is perhaps only celebrities and politicians who come under the same public and media scrutiny as Premier League managers. How do you handle the pressure and switch off?
"It is difficult. You have to be able to have the thought you are working as hard as you can. There are always areas of which to think. If you are on the back of a game, you very quickly think of the next game and think of the training you will do next week or think about players. It is difficult to switch off. Even in your switch-off moments, you are thinking of how you can improve and how you can win the next game. But you have to try and get your moments away from it. If it is possible, get a moment away - go out for a meal or spend time with your family."
During your playing career and when you were an assistant boss, did you always want to be a first-team manager and why?
"No. What I did want to do was always stay in the game. I think I would be the same as most. You will get some players from a very early age who know they want to be coaches and know they want to be managers. But that is by far the smaller percentage. Most will be as they make progress in the game. For me, I started to get involved in a bit more coaching and probably by the time I was about 28 I realised I wanted to stay in the game. First and foremost that was in a coaching capacity and, then, once you are a coach and have coached for a while, there becomes a greater desire to become your own man and manager."
Who were your early managerial role models and was there a specific boss whose principles or philosophies you especially admired?
"There are a lot of people who I learned from. The most successful period I had when I was a player was with Keith Burkinshaw at Tottenham in the early 1980s. Then in my coaching period at Tottenham, I worked under some very good managers. What you endeavour to do is gain as much experience and knowledge as you can from each of them. There were a few managers, ranging from David Pleat to George Graham, Glenn Hoddle and Gerry Francis - who, from an organisation point of view, was excellent. At that stage, I was a reserve-team coach. Ossie Ardiles took me back to Tottenham. I also worked with Jacques Santini, who was previously the national team manager. [But] the one I worked closest to was Martin Jol during the period of time he was there. What you like to think is you have picked up good principles and habits from all of the people I have worked with."
What do you think are the keys to successful man-management and those clichés of knowing whether a player needs an arm around the shoulder or the hairdryer treatment?
"It is working day in, day out. Is there a correct way to manage players? No, there is not. What you have to be able to do is work and manage around your own personality. The more and longer you are in the game, the more conscious you are of what a big part of the game man-management is - particularly with the changes we have had in different cultures over the years and playing with different mentalities. It has become a big part of the game. But there is not a correct way. You have to use your experience."

What thoughts go through your mind when your team faces a team managed by managerial greats, such as Arsene Wenger, Jose Mourinho or, in the past, Sir Alex Ferguson? Do you think of management as a one-on-one battle?
"No, and I never see it that way. It is always the team. Whichever manager that it is, he just happens to be managing that team. That team will play in a certain way. They will have certain players and a certain quality of player. It is always about how, on that given day, my team can beat that team. It is never a battle of wits against the particular manager. It is, 'how can I setup my team?', 'how can I prepare my team?', 'how can I get the tactics right for my team to win?'. What happens is that they [the opposition] have a manager, or leader as such, for their particular team and it just so happens you know him - you will maybe speak to him before the game and will speak to him after the game."
How does managing in the Premier League differ to in the Football League?
"What are the fundamental differences? It is the profile. I would not say being a manager is any different. Your working weeks and approach can be different, because there are more games in the Championship. Possibly in the Premier League there is more preparation time going into games. I think the biggest difference is the spotlight of managing in the Premier League."
What would you say has been your best day in management?
"(Pause for thought) A best day in management is always around results. They are the ones that tend to stick in your mind. Sometimes it is results and sometimes it is performances. If I look at my time at Norwich, probably the two performances at home against Manchester United and Arsenal last season are the ones which very much stick out. Of course we had many good days at Newcastle in the promotion season. We also had a big victory against Sunderland in the season we came back into the Premier League. Generally it is about results. As regards management, you work the same way week in, week out and try to improve the team."
In contrast, what has been your toughest day in management?
"Tough days are when you lose games. One area in the game which perhaps does not change the longer you are in the game is that there is a really good feeling when you are winning football matches. Of course, what also does not change is that it is equally as hard when you are losing games. I think that [finding it tough to lose games] is probably, if for any reason, because now we have put in as much preparation - because of the modern sciences and what we have in analysis. So when you are losing games, it does not get any easier. I tend to try and think about the better moments. The poor results, you want to get them out of your system."
So are you a big believer in the modern analysis and data, such as that provided by Opta, and implementing that into coaching players?
"Yes, I am but I think everybody is. It is how you use them. In the game now, we are all big in getting the stats through in recording them. But everybody is then different in how much you want that to influence your game. Certainly it is good for your knowledge and that part of the game is a necessity for us to know. [But] It is also how you use them and how aware you want your team to be of the stats, because in some ways they can work in a positive and a negative way. It is a judgement call in which ways we use them."
If you could give one piece of advice to someone starting in management, what would you say?
"One piece of advice?! (laughing before long pause for thought) I think probably for me it is to work within your personality - manage within your personality. Try not to be the type of manager that is not your personality."
Finally, you are here today at New Horizon Youth Centre to see the good work being done by the Railway Children charity, who this weekend could benefit from up to £100K raised by Aviva's #Take5 on Twitter. What is it you are doing?
"It is very much through our club sponsors, Aviva, and it is an opportunity for me to get involved in something very worthwhile. I have been very impressed with what I have seen today and the special work. We are in an industry where we are in jobs that are worthwhile and tough. [But] It is only when you come to environments like this that you realise how tough it is for the type of individuals who are coming here and more so the worthy work they do here. It is always nice and gratifying to come away from what is the day-to-day pressure of games to see what is a worthwhile organisation."
1 child runs away from home every 5 mins in the UK, which equates to about 100,000 children every year. Aviva are hoping to raise up to £100k this weekend for Railway Children. All you have to do is tweet/re-tweet messages containing #Take5. For more info, please visit www.railwaychildren.org.uk/take5