Premier League: Jonny Howson encourages Norwich to start 'winning ugly'
Norwich City midfielder Jonny Howson would be happy for the Canaries to start "winning ugly" to keep themselves up.
Last Updated: 08/03/14 2:20pm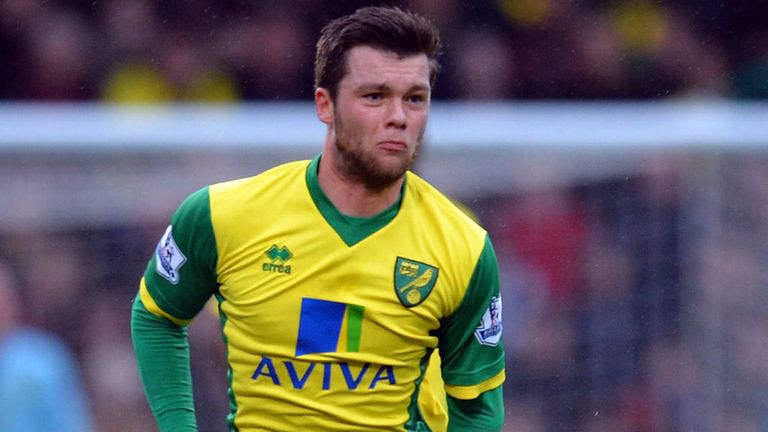 Stoke City visit Carrow Road on Saturday and Norwich will be looking for an instant response after last weekend's 4-1 thrashing at Aston Villa, which left them just four points off the relegation zone.
Howson, who returned from two months out because of a back problem with a late substitute appearance at Villa Park, believes at this stage of the season it has to be all about the end result rather than the performance.
"In the last few weeks, when I have been watching on, we have been playing good stuff, looking comfortable, but come the end we have lost the game and you are thinking 'how has that happened?'," said Howson.
"It is maybe that know-how of winning ugly - sometimes the top teams do that, they don't play great, but seem to come away with the win and that is what we maybe need to improve.
"Some of the performances recently have been very good, it is just what matters most, stopping them scoring.
"We need to pick up some points where we do not play too well, but come away with something.
"Recently we have had the opposite, where we have been playing well, but not picking up the points.
"You would take playing 10 terrible games, but getting enough points to see you safe. It is a case of getting the points, however it comes.
"There will be no point us sat here at the end of the season, saying 'we played great in those final 10 games', but came away with no points.
"You ask any player what would they choose - three points or a good performance? I know which one the majority would take."
Howson also added his support for Chris Hughton by insisting the squad are all behind the Canaries manager.
The 25-year-old said: "We have never really been in the bottom three, but the manager's future keeps getting mentioned and I don't really know what people are expecting. I think he is doing a great job.
"We are all behind him, you can see that from the home game against Tottenham. It showed we are all together, that has not changed.
"We know what goes on behind closed doors and know that everyone is together, players and staff, and I cannot see that changing."