Premier League: Robert Snodgrass say Norwich need to find heroes
Robert Snodgrass says Norwich will need to find "heroes" if they are to avoid relegation.
Last Updated: 14/03/14 2:00pm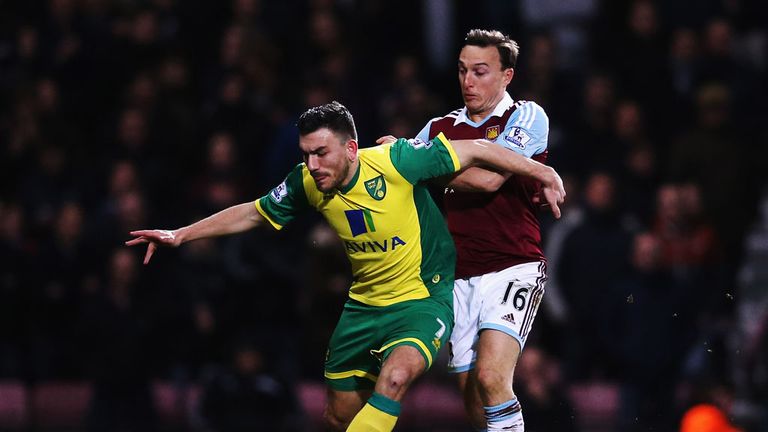 The Canaries go to Southampton on Saturday needing four victories from their last nine games to reach the magic 40-point mark, which most managers believe will mean safety.
Norwich's next five games - against Saints, Sunderland, Swansea, West Brom and Fulham - will therefore be pivotal, as their last four are against Liverpool, Manchester United, Chelsea and Arsenal.
Norwich are four points clear of the relegation zone and midfielder Snodgrass believes they should be much higher up the table.
"We've not been able to capitalise on the opportunities we've had," Snodgrass said. "The last two months we've had opportunities to stay unbeaten, but we've just shot ourselves in the foot and caused our own problems.
"That's why the lads are pulling their hair out, thinking 'what's the next step?' We were defending well against West Ham for 86 minutes, conceded two goals within five.
"We were in front against Cardiff. We conceded two goals within two minutes. I can go on. We've made those mistakes, but there's no better way to make a name for yourself by scoring the winner at St Mary's or keeping a clean sheet.
"I think that's what it takes. We need leaders, we need men, we need heroes. We do need people to stand up and those match-winners, myself included.
"Against Spurs it went for myself. We need more people to want to be the match-winner and the heroes."
Norwich's away form has kept them in the relegation fight - they have picked up just eight points, scoring nine goals, in 14 matches away from the sanctuary of Carrow Road.
"We're doing things away from home that we don't do at home," Snodgrass added. "We don't concede two goals in four minutes, we don't concede four goals in 15 minutes. It doesn't happen at home.
"You need to regroup as a team, because it looks like we just capitulate at times. The boys recognise that themselves and there's been some words changed after the game.
"The boys are passionate, they care and this is what it will take to try to get results, especially away from home.
"We all know what's at hand if we want to try to stay in this Premier League. It's up to us to do it. Everybody's pulling in the right direction. We're all gunning for it. We just need back-to-back results to go our way to try to kick on."
Snodgrass is not yet thinking about their brutal run-in towards the end of the season. "I don't look too far ahead. It's hard enough trying to pick a result up on Saturday against a good side," he said.
"We'll try to beat the opposition that's in front of us. That's all we can do. We need to be at the top of our game and everybody giving everything they've got to try to get a result down there.
"They're a great outfit and they've been getting all the plaudits this year and rightly so.
"They've got great talents in the team. It will be a tough job and we need everybody to be firing and to stay mentally strong throughout the game. Give them chances and they'll punish you."