Robert Snodgrass insists the Norwich squad must pull together to avoid relegation
Robert Snodgrass insists the Norwich squad must pull together to have any chance of avoiding relegation.
Last Updated: 23/03/14 3:03pm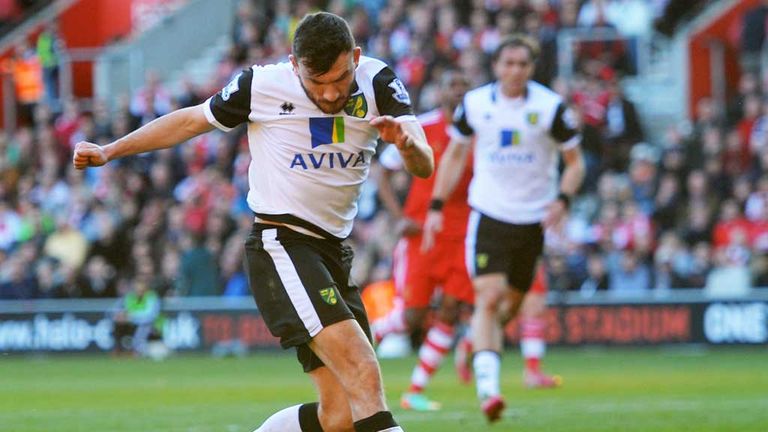 Chris Hughton's side are just four points above the relegation places after Saturday's 4-2 defeat by Southampton, but they have played three more games than third from bottom Sunderland.
Norwich struggled throughout against Southampton and they were three goals down until late in the match at St Mary's.
The Canaries now face a run of fixtures against fellow strugglers Sunderland, Swansea, West Brom and Fulham - a sequence which Snodgrass is well aware could seal his team's fate.
"They are massive games," said Snodgrass, who scored his team's second goal against Saints. "It is a time for heroes. We need to try and do it against Sunderland.
"We got late goals at Southampton but it was not good enough from the first whistle to the last.
"We let ourselves down playing like that. We battled towards the end but we can't give a team like Southampton three goals. It doesn't work like that.
"I am bitterly disappointed and we will go on the training ground and try and put things right.
"We know what's good enough and we will look over the game, assess the situation and that will be a hard pill to swallow.
"Defeats like that ruin your weekend, ruins your week and by the end of the week you need to get it out of your head because we're in a dogfight.
"Everybody needs to stick together. You're not going to get anything out of a relegation dogfight if you don't stick together so we need to do that as a team.
"It is just not happening away from home right now. If you put performances like that in, it is definitely not going to happen.
"I really can't put my finger on it but we will keep going because we're in a relegation fight down there.
"We could go down so we just need to roll our sleeves up and keep going."