Premier League: Alex Tettey sure Norwich can secure top-flight future
Alex Tettey is determined to see Norwich overcome their travelling woes when they visit to Swansea on Saturday.
Last Updated: 29/03/14 3:29pm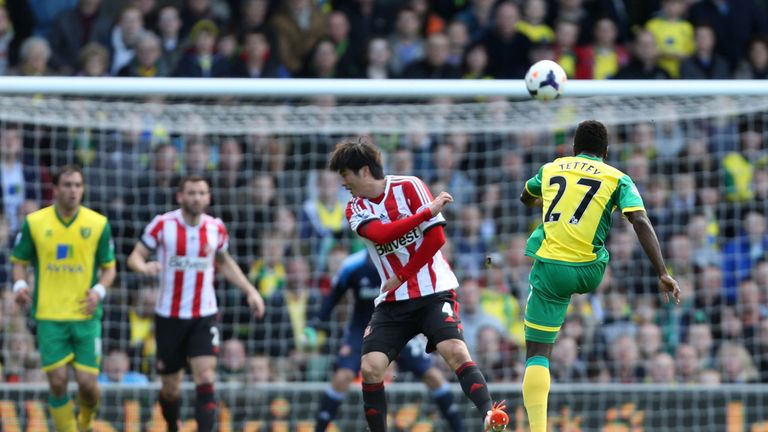 Chris Hughton's side have lost their last five away games in the Premier League, and conceded 14 goals in the process.
Contrastingly, Norwich are unbeaten at Carrow Road this calendar year and are yet to concede a goal from open play.
Norwich beat Sunderland 2-0 at home last weekend, with a wonder-strike from Tettey doubling the hosts tally after Robert Snodgrass' opener, and the playmaker admits spirits are high after victory over their relegation rivals.
"I don't know what's going on - but there is something going on," the Norwegian told the Pink'un.
"I told you during the week, I don't know what happens when we play at home. All of a sudden we have confidence - even though the last game was a horrible performance.
"We didn't know what we were doing at Southampton. But all of a sudden, it's all forgotten and we then played like we were in the middle of the table and we were safe [against Sunderland]."
Pressure
Victory saw Norwich promoted to 13th in the Premier League table and Tettey believes visiting 15th-placed Swansea on Saturday is the ideal opportunity to overturn their struggling form on the road.
"So there is something I think mentally going on that we have to get rid of, because if we can win away from home and win at home, everything will be fine," he added.
"To do that is much easier to sort out off the back of a win, because when you don't win away you have pressure on you to produce at home as well.
"We have a challenge against Swansea. They're a good team, a good team at home, so we have to try to do something to get a positive result."
Hughton's side travel to South Wales seven points clear of the relegation zone and Tettey believes Norwich are close to securing their future in the top flight.
"I think we are getting there," he said. "I think so - but still we need to win two more games and a draw. I think that will be fine."