Premier League: Russell Martin calls on Norwich fans to back team
Club captain Russell Martin has called for everyone at Norwich to pull together after angry protests at Carrow Road.
Last Updated: 06/04/14 2:19pm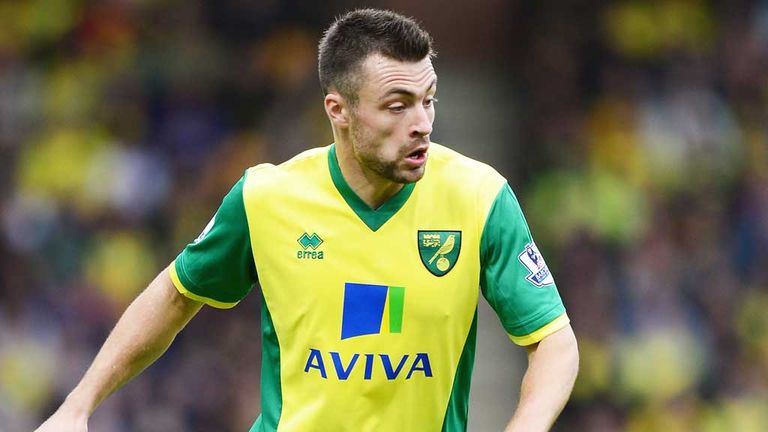 Fans reacted to the result by throwing hundreds of clapper boards - which had been put on the seats to help improve the atmosphere - onto the field, one hitting manager Chris Hughton.
Stewards also had to intervene when England goalkeeper John Ruddy confronted one supporter behind the goal in the Lower Barclay Stand, while Martin will also speak to club officials after he was involved in a heated exchange with a fan.
Hughton's men are five points clear of the relegation zone ahead of the visit to 18th-placed Fulham, but then finish the campaign off with daunting fixtures against Liverpool, Manchester United, Chelsea and Arsenal.
"We got booed off at the end, and everyone is entitled to their opinion, but someone said some a few things to me which I am not happy about and I will be speaking to someone about that," said Martin.
"I spoke earlier this week about how good the fans are, and they are, but against West Brom was disappointing.
"This is now a time more than ever to stick together. It hurts us as players.
"We are as disappointed as anyone in this stadium. It means as much to myself, to John (Ruddy), people who have been here a long time and played a lot of games for this club and we need them more than ever. They need to get behind us -it is as simple as that.
"I can understand it, because some people have been supporting this club for many, many years. But, regardless of how you feel about the management or the players, as a football club you get behind each other.
"If you question the desire and commitment, you are wrong and I will have a conversation with anyone about it because the lads are shattered in the dressing room.
"We have not shown enough quality in the final third a lot this season, and we need to sort that out.
"If we can win at Fulham next week, I think it will give them too much to do to catch us, so it is still in our hands, we have to be positive and move on from this."