Norwich manager Neil Adams insists he has no problem with Sebastien Bassong
Norwich City manager Neil Adams insists he has no problem with Sebastien Bassong despite dropping him at Fulham.
Last Updated: 13/04/14 10:49pm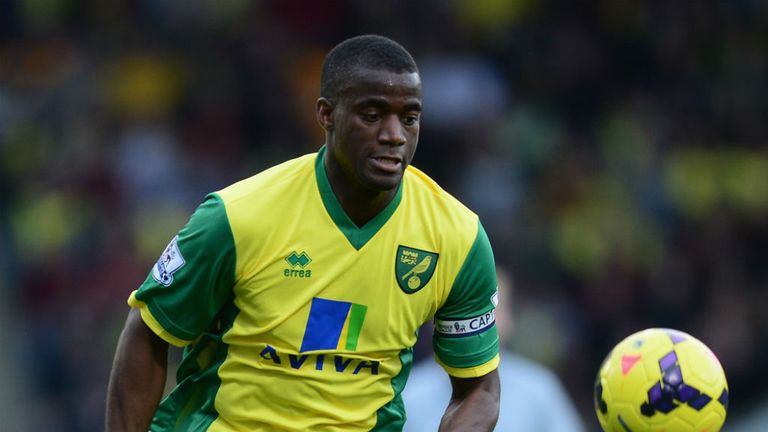 Bassong has been a regular fixture at the heart of Norwich's defence since joining the club in August 2012 and was rewarded with the armband by former boss Chris Hughton.
Adams took over after Hughton was sacked last Sunday and the new boss chose not to name Bassong even on the bench for the crucial Premier League match at Craven Cottage, but he appears set to return soon.
"There's no agenda there," Adams said. "I've told Seb I'll need him - that might be in the next game or the game after, I don't know, but he is a big part of this team.
"I just felt from what I've seen and the set-up that Fulham have, I thought Russell Martin and Michael Turner would be best suited.
"Seb is a fantastic player - he knows he's the team captain and he still is, there's no issue there."
Bassong did travel to the game and was in the changing rooms before the match with the rest of the Norwich players.
When asked what Bassong's reaction had been to being left out, Adams said: "I don't think any player is happy if they're not playing - they shouldn't be happy.
"Everybody wants to be in the starting team so of course I would imagine he's not happy.
"He wants it as much as anyone and that shows the kind of spirit we've got here and that's the kind of spirit we're going to need."
The defeat on Saturday leaves Norwich two points ahead of Fulham with a superior goal difference.
However the Canaries have a horrendous run-in which sees them face Liverpool, Manchester United, Chelsea and Arsenal in their remaining four matches.
"We need big players, big characters," Adams said.
"We've got to pick up points - there's no target but we've got four hugely difficult games now against top, top-class opposition.
"We know we'll have to get some points because 32 won't be enough, I'm pretty sure of that."
Norwich have not won against Liverpool, their next opponents, since April 1994 and have lost eight of their last nine matches against the Reds.
The Canaries did, however, beat Arsenal and Manchester United at home last season and Adams believes results like those give his players hope.
"The one thing I can pass to the players and some of the players have said themselves is we've beaten big teams before, particularly at Carrow Road," Adams said.
"We're guaranteed a full house - you saw the support we had against Fulham and we'll get that again.
"I've played in games where we've beaten big teams there and I've seen a lot of games where Norwich have gone on and turned over the form book.
"And that's what we've got to do now, we've got four massive games and we need to show the same form and desire and hopefully that'll be enough to get the points we need."