Premier League: Norwich boss Neil Adams demands 'belief, confidence and desire'
New manager Neil Adams says Norwich will have to show "belief, confidence and desire" if they are to avoid relegation.
Last Updated: 19/04/14 2:23pm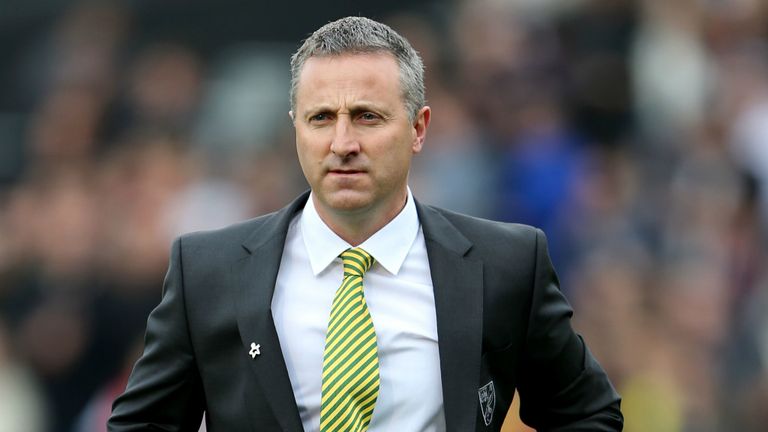 The Canaries host title-chasing Liverpool on Easter Sunday desperately needing points to keep them above the relegation zone.
Goalkeeper John Ruddy - who needed to be dragged away by stewards after confronting one angry supporter in the Lower Barclay Stand after their 1-0 defeat to West Brom - called on the Norwich players to step up to the plate against Liverpool, then Manchester United and Chelsea away before the last match of the season against Arsenal.
And Adams said Ruddy was spot on in his assessment, going into Sunday's crunch clash with Brendan Rodgers' rampant Reds.
"We need that type of attitude (which Ruddy called for) because you have to want to play at the top level and prove yourself, particularly against these sort of teams," said Adams.
"All players and managers should want to be involved. I have only had one game, but I want more of it.
"This is going to be about belief, confidence, desire. All the words and many more besides, the supporters would know what I am talking about.
"There is enough (character) there, I think you saw that last week. First and foremost you have to be professional and the boys we have out there are.
"Regardless of the situations they find themselves in you have a duty and a job to do, the supporters deserve that as the minimum - 100 per cent effort and that has been the most pleasing thing for me in the short period I have been here."
Norwich are currently in 17th, but only two points ahead of Fulham on 32 points, with Cardiff three back.
"You have to assume other teams will pick up points and we can't rely on sitting there and hoping. You have to go out and get points," he said.
"We know how incredibly tough the last four games are, but everyone at Norwich knew that when the fixtures came out last June.
"Make no bones about it, these are four really top sides, but we are confident we can get points.
"But it (relegation) is far from cut and dried because teams are scrapping for points at the top and bottom."
Liverpool could take a big step to their first top-flight title in 20 years should they beat Norwich.
Adams said: "They have one hand on it if you like because if they win all the games, then they are the champions and that brings its own pressure - but whether that helps us or not, I don't know."