Court hears claims of huge debts as Coventry await Football League verdict
The Football League is yet to comment on claims the company which owns Coventry's 'golden share' is in administration.
Last Updated: 26/03/13 10:18pm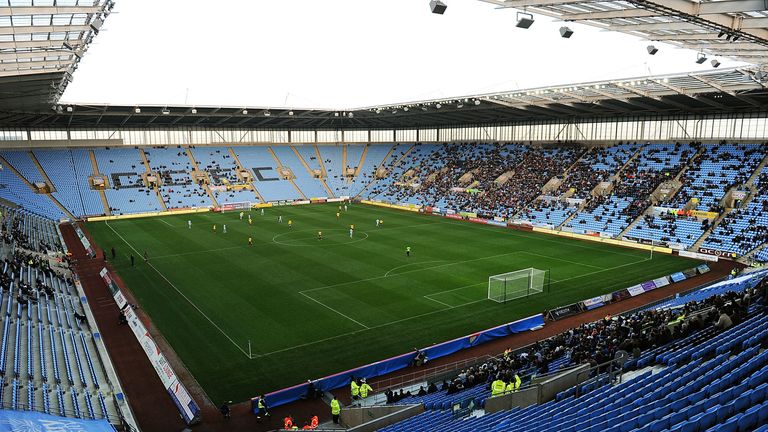 The claim was made at the High Court by Arena Coventry Ltd, who manage the Ricoh Arena and allege £1.3m is owed in unpaid rent, and if true would bring a 10-point penalty under League rules.
A subsidiary company of the League One club was placed in administration on Thursday, and in court ACL dropped a petition to have their own administrator appointed.
ACL's lawyer James Powell told the Coventry Telegraph outside court: "It's clear to us the whole club is in administration. Our focus shifts onto this administrator doing a good job."
And ACL later claimed the League agreed with their assessment, releasing a statement which read: "We are grateful to the Football League for coming back so quickly to our legal team to confirm that the Football League share resides with CCFC Ltd (the company in administration), not CCFC Holdings."
Coventry, for their part, say the part of the club in administration is not the one in possession of the 'golden share', which carries membership to the Football League.
And as the dust settled on court proceedings which heard claims of "catastrophic insolvency" at the club and £60m owed to creditors it was left to administrator Paul Appleton to get to the bottom of an issue which has left supporters "bemused".
Michael Orton of the Sky Blue Trust told Sky Sports News: "The complexity of the legal and financial arguments being made in court - I think there were legal and financial experts who were scratching their heads.
"This has been a long-running saga, and I think most fans would say they are appalled by what's going on and remain bemused as to why the different parties could not have resolved this a long time ago.
"Whose interests are all these legal wrangles serving? Certainly not the interests of fans."
Both ACL and Coventry say their wish is for City's final three League One fixtures this season to be played at the Ricoh Arena, and the pitch is being prepared for Friday's visit of Doncaster.
Appleton, meanwhile, has reassured players and staff that their working lives will continue as normal while his investigations are ongoing.
He said: "The process of administration is lengthy and complicated and, while I appreciate the pressing concerns of Coventry fans, I would like to ask for their patience."