Pressley primed for Wolves test
Coventry will face their toughest test of the season to date when they make the short trip to Wolves, according to manager Steven Pressley.
Last Updated: 17/10/13 4:07pm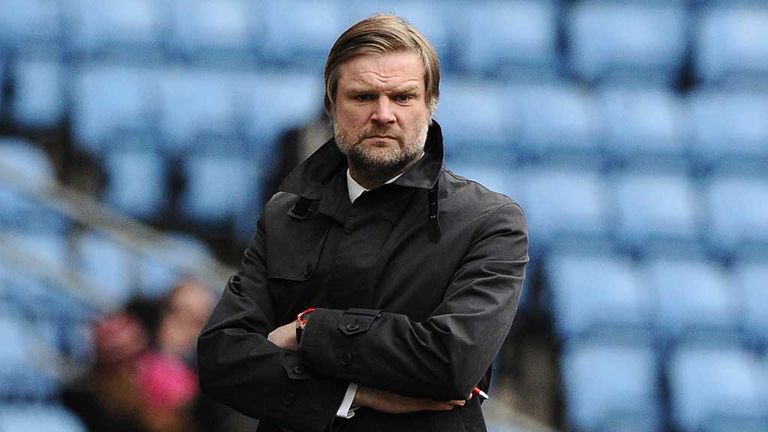 Coventry will face their toughest test of the season to date when they make the short trip to Wolves, according to manager Steven Pressley.
The Sky Blues will be backed by 3,400 supporters when they travel to Molineux on Saturday to face an in-form Wanderers outfit who have so far lived up to their pre-season tag of promotion favourites.
But Coventry have also proved their strength this season and, despite sitting 16th in the League One table, would be fifth - just two places behind Wolves - were it not for a 10-point deduction prior to the start of the campaign.
Speaking at City's Ryton training base on Thursday morning, Pressley insisted both he and his players are excited by the encounter.
"The biggest thing for ourselves is going there believing we can win, not hoping we can win, believing we can win," the Scot said.
"It will be terrific, we cannot wait and I genuinely mean that. The players are very much up for it, training has been terrific again this week. As a player, these are the type of games you want to be involved in.
"It will be a wonderful atmosphere and a game I genuinely believe that with the right performance we can win."
Asked whether Wolves will provide the sternest examination of City's credentials so far this term, Pressley said: "Yes, without a doubt.
"The league itself is a brilliant league because you have Brentford beating us one week, us going to Stevenage the next week and winning, and then Brentford going there and losing the following week. You have Bradford losing at home to the bottom-placed team.
"You have all of these results which upset the form guide, I think that's what's brilliant about the league this year.
"In terms of challenge, size of club, budget, form - all of these things - well, we've played leaders Leyton Orient already in the cups, but I think this will be our biggest test so far."
Elsewhere, supporters' group the Sky Blue Trust continue to hold out hope that Coventry can return to the city and the Ricoh Arena.
The Trust revealed last month that they had held separate talks with both stadium management company Arena Coventry Limited (ACL) and the Sky Blues in an attempt to encourage new discussions between the warring parties, with City currently groundsharing at Northampton's Sixfields Stadium.
In their latest statement, the Trust insist independent talks are ongoing with ACL, Coventry City Council, the Football League and Otium Entertainment Group although Sisu have to date refused to enter into discussions.
The statement added: "The overall tone of each meeting has given a tiny ray of hope, each party stating they are unhappy with the current situation, with the team playing 35 miles away from its home and how they would each welcome a resolution.
"Frustratingly each one has its own view of how to achieve this and none appear to be desperate to find a solution. Surely there is a deal to done then? But it's getting each party to agree as to what that deal might entail that is so far proving elusive."