Sky Bet League One: Coventry have released ambitious plans for brand new stadium
Coventry have released ambitious plans for the club's brand new stadium.
By Amy Lewis
Last Updated: 20/12/13 12:16pm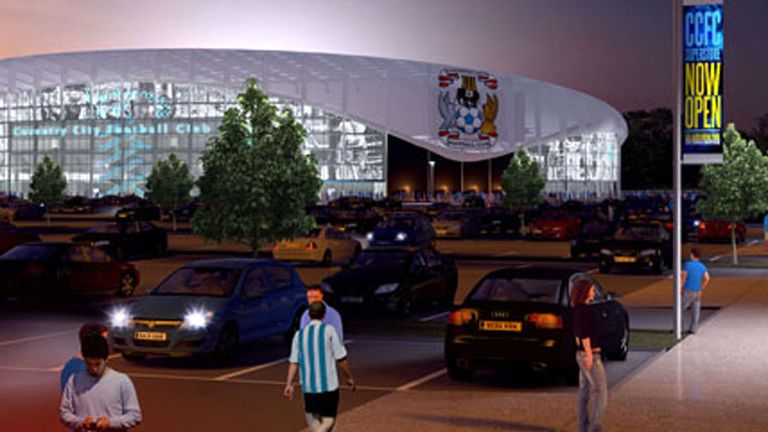 The League One side say the initial phase would create a 12,500-seater stadium which could ultimately rise to 23,000-seats - but haven't said when or where the stadium will be built as they are still trying to secure a site for the new ground.
The Sky Blues, who went into administration in March this year, have angered some fans this season by playing their home games 34 miles away in Northampton following a dispute with Arena Coventry Limited (ACL) over rent at the Ricoh Arena.
The plans for the new stadium would mean a return to Coventry for the club, who have appointed global real estate company CBRE to help buy suitable land quickly.
Coventry chief executive Tim Fisher said: "I understand that the key question on everybody's lips is: where is it going to be? We are working very hard with CBRE to purchase our preferred site and we will, of course, keep supporters informed when that happens.
"At that stage, we can then start to plot a timeline of applying for permission, time it takes to build and when we could open.
 "There is still a huge amount of effort required and I would urge supporters to make full use of the Stadium Forum that has been set up because that way their views can help to shape the thinking of how we make this a home for the club and its fans."
The design for the new stadium have been developed by architects AFLS+P, who have also worked on grounds for clubs such as Chelsea, Barcelona and Brighton's Amex Stadium.
Steve Waggott, Coventry City's development director, said stadium ownership was vital to the future of the club.
He said: "There are several ingredients for creating a sustainable and successful club and owning your own ground is one of the main ingredients. A football club needs to squeeze every penny it possibly can out of its stadium both on match-days and non-match days in order to be able to invest on the pitch."
Moz Baker, a spokesman for fans group Sky Blue Trust, said: "The Sky Blue is interested and intrigued by the latest plans for the proposed new stadium for Coventry City. It is also a little confused and somewhat underwhelmed.
"An artistic sketch is all good and well but it is very easy to produce a theoretical drawing of a stadium. However without it being specific to a site, it is meaningless and impossible to cost.
"The important issue is where the stadium is located and when it will be built. How will it be financed? And critically where will the team be playing while the build takes place?
"Crowds are already miniscule at Sixfields. They could be virtually non existent by the time this proposal comes to fruition."