FA Cup: Coventry captain Carl Baker driven by family tragedy ahead of Arsenal tie
Coventry captain Carl Baker is hoping to take inspiration from tragedy during Saturday's FA Cup tie at Arsenal.
Last Updated: 23/01/14 11:07am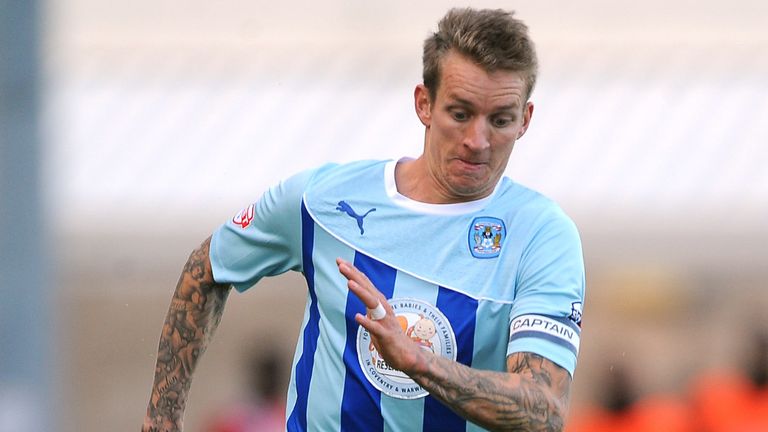 Baker's eldest brother Mike was diagnosed with leukaemia and passed away at the age of 33 in 2009, whilst his younger brother Dean was also diagnosed with the disease at the age of 16.
After three years of treatment, 21-year-old Dean was given the all clear and is expected to be in the crowd on Saturday.
The Sky Blues skipper has revealed that the lasting memory of one brother and the determination of another will be at the forefront of his mind when he steps out at the Emirates.
"Every game - no matter if it's the smallest game ever - I have my own ritual of saying a couple of prayers before kick-off," Baker said.
"I ask Mike to look over me and help me chip in with a goal or get us a result. I do that all the time and have done since the day he passed away.
"Going into the game, it is something I think about and use that to drive me on.
"(Dean) still has difficult times, but he comes to most of the games and loves his football.
"That is also the biggest inspiration you can have as a brother. I have seen both sides of it - Dean having the joy of getting through it, but the heartbreak of it all going wrong with Michael."
After losing 6-1 at the Emirates last year in the League Cup, Baker believes his side will be more accustomed to the surroundings this year.
"When we went there last year we were a little bit in awe," he said.
"At the Emirates we were looking around, but we have all experienced that now.
"Hopefully it will be a little different this year and we can get down to business rather than having a look around at the facilities."