Blue sky thinking
Coventry's Callum Wilson discusses hitting the goal trail and returning the club to its rightful home.
Last Updated: 26/02/14 5:14pm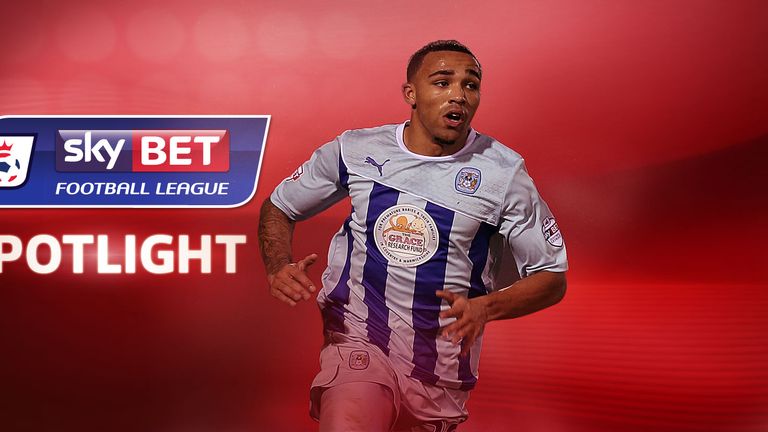 The 2013/14 campaign is now entering the final straight, with divisions beginning to take shape.
Here at Sky Sports, we will look to take you to the very heart of the Sky Bet Football League over the coming months, with our Spotlight features intended to give you a greater insight into the clubs and players that keep us on the edge of our seats.
We hope to bring you the views and thoughts of a representative from each of the 72 teams over the course of the season, with those involved asked to give their take on the division they compete in, the club that pays their wages and those we should all be keeping an eye on.
Coventry's Callum Wilson is next into the hot-seat, with the Sky Blues striker taking time out to discuss hitting the goal trail and returning the club to its rightful home with Chris Burton.
First up, how's the shoulder - no problems after the U21 run-out on Tuesday?
No, the shoulder's fine. I've got stiff legs after yesterday, but other than that it's fine. I was making sure that I used it more often than I needed to just so I can get my confidence back up for when I'm back involved with the first team.
I imagine it's been a frustrating couple of months hasn't it, being forced to watch on and not be able to get involved?
Exactly, especially with games like Arsenal to play in. It was frustrating to not be involved in the big games as well as missing out on the league games. I was in the running for top goalscorer, I still am, but a lot of players have had more games than me now.
You must have been delighted with your return up until the injury - 15 goals and you were flying?
With the two months out, within that time I would definitely have got into 20-plus. It's just about getting back now and hitting the ground running. I think we have got about 13-14 games, so hopefully I'll get a minimum of five goals in that time.
Are you a good spectator, because it must be tough watching when results aren't going as well as hoped?
I always went in the dressing room and went to the pre-match meetings on the Friday before the weekend games. I encouraged the players to do well because it's a team game at the end of the day - if the team does well, we all do well. With the recent run of games not going our way, it's just about getting back on track and starting to pick up results.
Have you been kicking every ball with them on the sidelines?
Yeah. It's frustrating sometimes when we concede sloppy goals and I'm sitting there watching not being able to help out. But overall the lads have been doing well without having a recognised striker in the team for a while. Hopefully when I come back to the team I can add something different and we can start picking up some more points again.
Do you feel that you've started to show your true colours this season - you're only 21, have had a couple of loan spells and it feels as though it's all starting to come together doesn't it?
I always believed in my ability, it was just about getting a proper opportunity and a run of games in the team, which the manager gave me in the back end of last season and gave me a chance to show glimpses of what I'm about. Then I came back for pre-season confident and ready to hit the ground running. I've shown what I can do and scored the goals to prove that.
In the senior ranks it's not as easy as just scoring goals is it, it's about positioning and movement and learning as you go?
Definitely. It's a lot different from youth team and reserve level games, the tempo is a lot quicker and you've got the manager making demands of you. Whatever age you are, he expects the same of everybody. The style of football he's played, with the intensity, we are always pressing the ball and playing football. It's good to be involved in and he's filtering that throughout the whole club, with the young players. Even yesterday in the reserve game, we're trying to implement that as well.
Working with the gaffer and a few of the more experienced lads, that must be helping to make the most of your attributes - as you're about much more than pace aren't you?
Yeah. If I was just about pace I would be on a running track. Pace is obviously a big part because it helps me to get into positions I need to and get that extra time in front of goal and put chances away. But the way the manager plays, it's designed to be fluid and for us to be ourselves and be confident. The lads know the best way to get me on the ball, which has worked well this season.
You've signed a new contract as well, that's a nice bonus isn't it and is one less thing to worry about?
With my contract running down, I think it was running down to the end of this season before I signed my new one, that's always in the back of your mind. When I came back I had a year to get some security for my family, and I did that early on. That has been a bonus and I have been able to settle down and just concentrate on my football.
As a local lad were there no doubts in your mind that Coventry is where you want to be playing your football?
Growing up around here, my friends and family all support Coventry so it's nice to be staying around here and doing well for the first team and for them to be proud of me.
It's not been the easiest time for the club has it - administration and the ground issues - but it appears as though you are coming through that now?
It's not been the best what's gone on off the pitch, but as players and management we just have to concentrate on what we can affect - which is on the pitch. When we got hit with the 10-point deduction we just had to stand up and be counted and try to get that back and up the table and avoid relegation. We've done that so far. There are obviously still a lot of games to go and we need to continue doing that. That has always been the aim, I think personally, to avoid relegation after being hit by 10 points at the start of the season. But doing as well as we were, you start thinking about the play-offs. Then to lose two strikers with 30-40 goals between us, it's not helpful.
The play-offs are, realistically, out of reach now aren't they but a top-half finish would be some achievement wouldn't it after all that has happened?
It would be a great achievement. The play-offs would be amazing. They are only 15 points away, but relegation is only five points, so it's about getting a safety net away from relegation and then look where you are when you start picking up results and moving up the table.
As a club and as a group of players you've just got to see it as a rebuilding year haven't you and look to really push on next season?
Yeah. Hopefully we'll bring in a few more players, and with the youth players that we've got there is no reason why we can't be challenging for promotion with the team that we've got. A few additions to that would be good as well. We obviously won't have the 10-point deduction, we'll all start on zero, so there will be a bit less pressure on the team to get those points back.
As a club is it still a bit weird lining up at Sixfields? Coventry is a club that deserves its own home doesn't it?
Coventry is a massive club and to be playing somewhere else - with me being from Coventry - it's a 60-mile round trip which isn't needed really. I live walking distance from the Ricoh, I can see it from my house, so it's not great to be that far away and playing your home games in front of 1,000 or 2,000 people when you are used to playing in front of 10-15,000 at the Ricoh. I know a lot of my friends and family would be at the Ricoh supporting but because it's so far away now, they can't make that commitment every week.
As players do you all feel for the fans and understand their frustrations?
Yeah. Taking Coventry out of the city, some people were getting buses to the ground but Northampton is a lot further and more expensive - it's not just the ticket they have to buy, it's the transport and people getting the time to travel that far to watch us. Hopefully it's something that can be sorted in the near future and get back to playing at the Ricoh or a new stadium in the city where everyone can come and support and my friends and family can come more often as well.
Hopefully all of that is in the near future, but are you confident that good times lie ahead for Coventry?
Definitely. The manager has got good plans and the way that he has set things up from when he first came in, he stamped his mark on the club and told us his style of play. If you don't buy into that then you aren't the right player for him, but everyone has bought into that, thankfully. Basically we just want to be getting back into the city and then up into the Championship, because League One is not a place that Coventry City needs to be.
Callum Wilson was talking to Sky Sports on behalf of Sky Bet, the Title Sponsor of The Football League.
For a wide range of match odds and specials on all Football League matches and a £5 free bet every week, go to skybet.com.