Gibson not on McLeish's radar
Aston Villa manager Alex McLeish has ruled out making a move for Darron Gibson or Scott Parker.
Last Updated: 26/08/11 4:24pm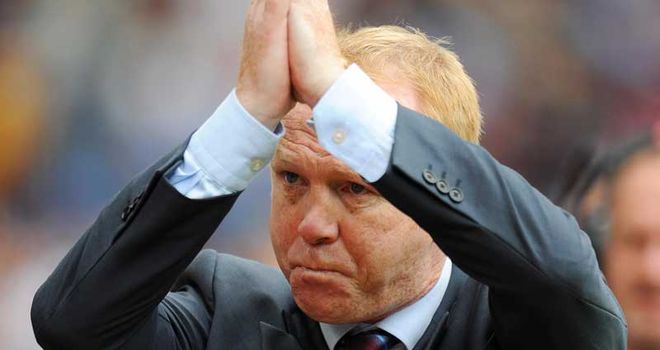 Aston Villa manager Alex McLeish has ruled out making a move for Darron Gibson or Scott Parker.
McLeish has to adopt a 'sell to buy' policy if he is to bring in any more new signings before the transfer deadline on Wednesday.
And although Villa have accepted an undisclosed offer from QPR for defender Luke Young, McLeish claims he is not eyeing a move for Manchester United midfielder Gibson.
"He is not someone we have on the radar," he said.
"We have discussed him in the past amongst other midfielders, but it is unlikely."
Parker has been linked with a return to the Premier League following West Ham's relegation and although Tottenham have made a move for the England midfielder, McLeish insists the player is not on his radar.
"Definitely not him," he said. "But you could name 100 names and it is not my policy to talk about players until we dot the i's and cross the t's."
Young exit
Young has been keen to find a club in London since being frozen out last season and the former Tottenham and Charlton man, 32, is now in talks with QPR.
"Luke was told he wasn't in the plans and moved his family back to London," McLeish explained. "He has been commuting from London to Villa in recent times.
"We were very honest with each other when I came here. I said I wanted him, I needed his experience, he had to honour his contract.
"But I understand his situation and he thought if there was a chance of getting back to London, the club would be sympathetic to that. I said only if it suits us.
"QPR have put a bid in for Luke which the club have accepted and he is talking to them now with my approval - as long as we can add to the squad," added the Villa boss. "The deal is not done yet but the indications are he will go to QPR.
"We will be looking to bolster the squad with an experienced player. If we are thin on the ground, it is (in terms of) experience.
"We have got a list of players. We have to be ready with some names for the board."
Tottenham full-back Alan Hutton would fit that criteria and the Scotland international has also been linked with Villa.