Fernandes serious over Beckham
QPR can offer David Beckham the 'love, care and attention' needed to fulfil his aim of leading GB at the Olympics, says their owner.
Last Updated: 10/09/11 9:18pm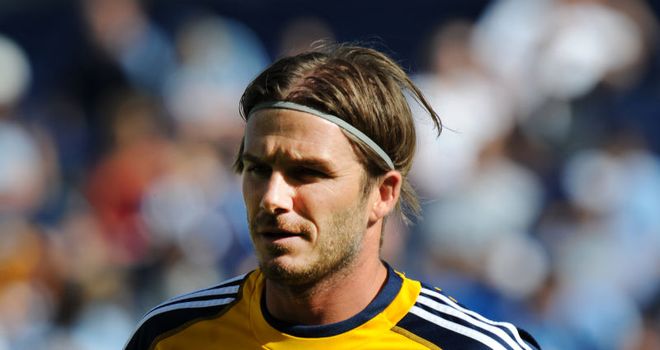 QPR can offer David Beckham the 'love, care and attention' needed to fulfil his aim of captaining Great Britain at the Olympics next year, according to new owner Tony Fernandes.
Fernandes is willing to provide Beckham with the route he needs, and to expand his global brand beyond that given his connections in the Far East where the 36-year-old is already a phenomenon.
The Malaysian entrepreneur believes Beckham has something to prove to himself with one last hurrah in the Premier League.
Talks
It is understood Fernandes has held talks with Beckham's advisors with regards to a move from Los Angeles Galaxy during the January transfer window.
The feedback is that Beckham would prefer Spurs or Arsenal if at all possible, although he has not ruled out QPR given Fernandes' long -term vision for the club.
Fernandes is adamant signing Beckham is not a pie-in-the-sky idea, but a realistic target as he attempts to cement QPR's future in the top flight beyond this season.
"If you look at the five signings we've made we have brought in people who have something to prove," said Lotus team principal Fernandes, speaking in Monza ahead of Sunday's Italian Grand Prix.
"Shaun Wright-Phillips still feels he can play for England; Joey Barton has a lot to prove; Anton Ferdinand, missing in action at Sunderland, but back in London, home town, things to prove.
"Then we've Luke Young who felt he was deserted early by (England manager Fabio) Capello, and (Armand) Traore was never given a chance at Arsenal by (Arsene) Wenger.
"So we've five new players, and Beckham fits into that mould because he wants to return and captain Britain at the Olympics.
"Environment, love, care and attention - we can offer that to him.
Fit
"I'm not sure it's for him, and I'm not sure it will fit him in January. Who knows?
"But I'm an ideas man, and he is an idea. He may not want it, he may want a bigger club. I hear (Spurs manager) Harry Redknapp has said he wants him.
"Ultimately, (manager) Neil (Warnock) has to feel comfortable, but who knows what can happen in January. We will have to wait and see.
"They (Beckham's advisors) want to talk because our vision is a long-term one, with lots of things David can do in Asia with me. It's something we have to work at."