Ferdinand maintains full focus
QPR defender Anton Ferdinand has experienced a 'crazy' week amid the race row involving John Terry, but he remains focused.
Last Updated: 28/10/11 12:37pm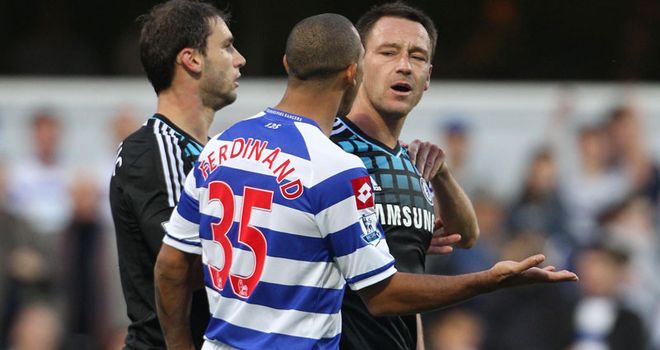 Queens Park Rangers defender Anton Ferdinand has admitted he has experienced a 'crazy' week amid the race row involving John Terry, but he will not let events impact upon his performances.
The centre-back was the subject of an alleged racial slur by Chelsea and England captain Terry during a stormy game between the two clubs last weekend.
Terry has denied any wrongdoing, but the Football Association is investigating the claims, while the Metropolitan Police is also involved after receiving an anonymous complaint.
Ferdinand is preferring to concentrate on football, with QPR heading to Tottenham this weekend, although he does concede recent days have been somewhat different.
"The last few days have been crazy," Ferdinand said in the Daily Telegraph. "But I'm looking forward to Sunday's game and fully focused on football.
Fantastic
"Anyone who knows me will know that whatever's going on, football's always going to be my number one priority."
Ferdinand has refused to talk about the alleged incident, but has thanked his peers, at other clubs as well as at QPR, for the support they have shown him.
"I'd like to thank players like (Blackburn's) Jason Roberts for the support they have given me," he added. "Not just professionals at other clubs but my team-mates at QPR.
"They've been fantastic for me. Having team-mates around you like I have is nice to feel, and nice to see."
As part of its investigations, the FA will speak to both Ferdinand and Terry, while other QPR and Chelsea players could be called upon.
Public eye
"Has it been the craziest week of my life?" Ferdinand added. "There's been other situations, but it's certainly up there. But these types of situations are what make you."
The former Sunderland player will hope to help QPR build on their victory over Chelsea with another three points at White Hart Lane and that is his target.
Ferdinand told The Sun: "I am not going to let any of this affect my game. All week in training I have been focusing on nothing other than my preparations for Sunday's game at Spurs.
"People have been stopping me in the streets and talking to me, but when you're in the public eye that happens every day of the week.
"Of course it's been a bit more strenuous this week, but it's when people don't want to talk to you or take your picture that you have a problem. It's football as usual as far as I'm concerned.
"The bottom line is that I'm playing in the best league in the world week in, week out. So how can I not be enjoying myself?"