Hughes knows goals are needed
Mark Hughes feels QPR need more goals as he looks to add to his squad in January.
Last Updated: 16/01/12 6:31pm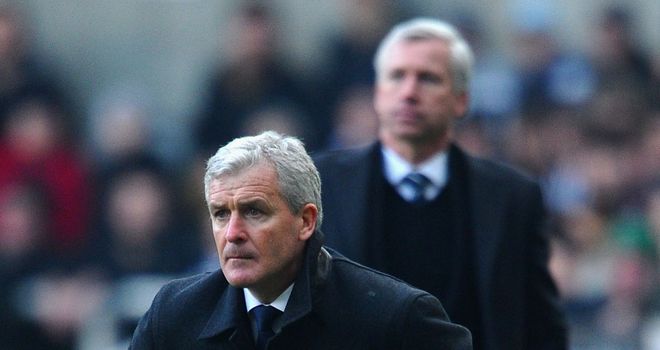 Mark Hughes feels QPR need more goals as he looks to add to his squad in January, but insists improving the current players is the priority.
Hughes' first game at the helm ended in defeat on Sunday when his new side lost 1-0 at Newcastle to end the weekend in the Premier League's drop zone.
It was a 10th match without a win for the Londoners but they will get the chance to remedy that in the FA Cup on Tuesday, when they face League One side MK Dons in a third-round replay.
Hughes said: "There are areas we can improve, that's obvious. We were missing players.
"And as the games come thick and fast, we would hope to welcome back some players and, if we can, bring players into the club who will help us.
"But it's difficult in January, we understand that. It's important that if you do target players, they have to come in and make an impact.
"It's important that we improve our goals-for column because that is hindering us at the moment.
"But we can't just isolate one unit of the team, it has to be a collective thing and if we improve all areas of the team then that will enable us to get in those positions more often, and then maybe our average conversion rate won't hinder us as much as it is maybe at the moment.
"In terms of futures, we are looking to make Queens Park Rangers better - obviously, that's the aim of everybody - and we want many of the players who are at the club now to be a part of that."
With barely 48 hours between the Newcastle defeat and the FA Cup tie at home to MK Dons, Hughes admitted that some changes would be necessary - but not many.
He added: "We will have to make a few changes, but it won't be as wholesale as possibly people would think because it's important that I still get to know what I have got.
"We have got a quick turnaround, so very quickly we have to understand who will be available.
"I need to use players who maybe haven't had much of an influence.
"So that gives me another opportunity to understand what I have got at the football club.
"The timing of it is a little bit unfortunate because of the (possible tube) strike on the Wednesday - that's why it's on Tuesday night.
"It's not easy because it does have an effect on players' ability to play at the top of their game because of the closeness of the two fixtures.
"But for my point of view, in terms of cup competitions, I have always taken the view that a good cup run can help your league form anyway.
"If we can progress in the competition, the opportunity to progress further will help our confidence and the fact that we are winning games, maybe, in cup competitions will help us in the league."