Derry holds Zamora hope
Shaun Derry is hoping Bobby Zamora can once again play a starring role in Saturday's west London derby with Fulham.
Last Updated: 24/02/12 9:56am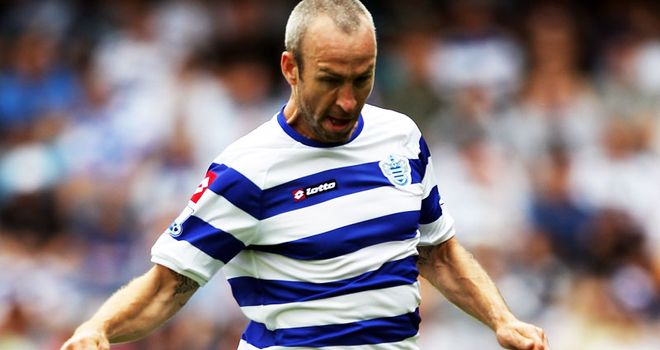 Shaun Derry is hoping Bobby Zamora can once again play a starring role in Saturday's west London derby with Fulham, but this time for QPR.
England international Zamora inspired Fulham to a comprehensive 6-0 victory when the two teams last met back in October.
And Rangers midfielder Derry, who was subbed at half-time in that match, admitted he felt like getting on a bus to leave Craven Cottage along with team-mate Adel Taarabt before the end of the humiliating defeat .
Since then, Zamora has made the short move to Loftus Road in a £6million deal and will face his former club for the first time on Saturday.
Prolific
"We are hoping Bobby can have the same impact for us that he had for Fulham a few months back," Derry told The Mirror.
"He was one of two standout performers that day, along with Andy Johnson, and a real handful for our defence. We are hoping Bobby can be as prolific for us as he was for Fulham.
"He has already shown for us what a good player he is.
"We have had a lot of changes at the football club this year - perhaps two or three sides - and it is difficult when you have had that amount of changes. We are hopeful that the remainder of the season is going to be good for us and the new boys improve our fortunes."
QPR head into the match refreshed after a week spent at a training camp in Portugal.
And, despite two busy transfer windows and a mid-season change of manager from Neil Warnock to Mark Hughes, Derry insists the team-spirit at the club is as strong as ever.
"It was good to spend so much time together, because this season is now about staying together, first and foremost," added Derry.
"When it gets to the last 10 games especially, other teams will find themselves in the same situation as us at the minute, but we have to stay together as a team.
"I just feel team spirit can drag you along sometimes when it is going against you."
After four games without a win, Derry hopes revenge in Saturday's derby can be the springboard for a push up the table.
Embarrassed
"We embarrassed ourselves in October - it was our worst performance of the season," he recalled.
"It was quite embarrassing, but this is our chance to put it right. We are well aware of the situation we are in in the league and it is time we string some wins together, especially at home.
"The next four games (Fulham at home, Everton at home, Bolton away, Sunderland away) are incredibly winnable for us. We showed when we beat Chelsea at home in October what we can do.
"We have let ourselves down at Loftus Road this year so we are hoping when QPR come onto our patch, we can make some big improvements."
Derry also backed former boss Warnock to take one of his former clubs Leeds United into the play-off places come the end of the season.
"I feel he has made the right decision to go to Elland Road, because they are only six points off the playoffs, so it wouldn't surprise me in the slightest if they are in the top six at the end of the season," said the midfielder. "No-one knows (the Championship) better."