Derry launches Barton defence
Shaun Derry has leapt to Joey Barton's defence after being booed by Queens Park Rangers' own fans in midweek.
Last Updated: 23/03/12 1:25pm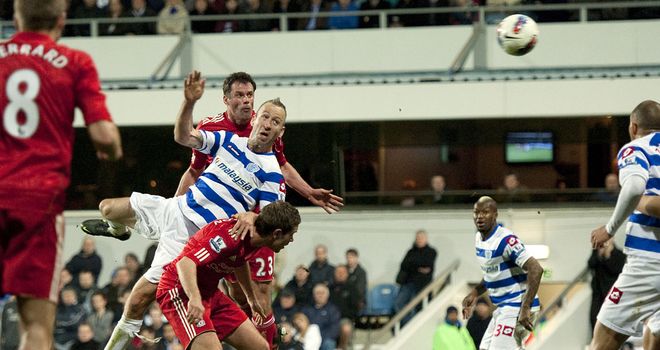 Shaun Derry has leaped to Joey Barton's defence after being booed by Queens Park Rangers' own fans in midweek.
The Hoops captain was jeered during Wednesday night's home game against Liverpool after a string of misplaced passes and was brought off in the 62nd minute with his side losing 1-0.
Barton has since said it was the 'worst he's ever played' but also admitted he was disappointed to be booed.
The combative midfielder led the QPR celebrations after seeing his replacement, Jamie Mackie, seal a stunning fightback from 2-0 down to win 3-2 and give their survival hopes a major boost.
Frustrating
Midfield partner Derry has therefore stressed Barton is fully committed to keeping the club in the Premier League and wants no more negativity coming from the Hoops faithful as the team continue their survival bid at Sunderland on Saturday.
"As players, you hear what goes off in the stands," he told the Evening Standard. "It has been a very frustrating season for everyone connected with the club.
"But when that third goal went in you looked at the bench and Joey was on (substitute goalkeeper) Radek Cerny's shoulders.
"That tells a story for me. He is fully behind this side, the squad, and the club. His commitment is there.
Honest character
"Granted, he didn't have his best game against Liverpool and he is probably having a bit of a sticky time at the minute, but he will hold his hands up and say that.
"Like him or loathe him, he is a very honest character. And when you are in that situation you kind of feel you are playing with blinkers on.
"You are so concerned with trying to get that next pass right that it takes away what your real game is.
"But Joey has a great pedigree at this level and I'm sure he will get through it. He is there for the boys, is one of the lads in the dressing room and we are fully behind him."