Hughes bemoans Hodgson timing
QPR boss Mark Hughes has expressed his disappointment by the timing of England naming Roy Hodgson as their new manager.
Last Updated: 04/05/12 5:06pm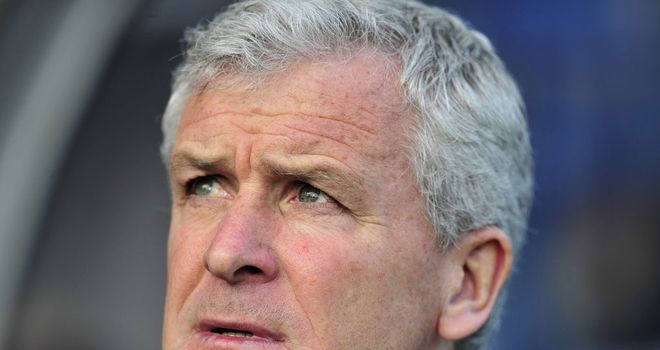 QPR manager Mark Hughes has expressed his disappointment by the timing of England naming Roy Hodgson as their new manager.
Hodgson's West Bromwich Albion go to Rangers' relegation rivals Bolton on Sunday in a key clash in the battle against relegation.
QPR are also at home, to Stoke, and currently occupy 17th place due to a superior goal difference to the Trotters.
But Hughes is worried that the Baggies players will not be in the right frame of mind to take on Bolton on Sunday.
He said: "It is a great opportunity for Roy and I am really pleased for him. He has paid his dues, had a fantastic managerial career and I am sure he will do exceptionally well.
"I was a little bit disappointed that it came out this week.
"I felt people could have possibly kept it under wraps until all the league games were out of the way and all the issues that needed to be concluded were finalised.
"But that hasn't been the case, it has come out early and I hope that it won't have an impact on West Brom's performance.
"I would like to think they will go and work exceptionally hard for their manager, who has done a fantastic job for them and I am sure they will."
QPR go to league leaders Manchester City on the final day of the season, making Sunday's meeting with Stoke even more significant.
Bolton's campaign finishes with a trip to Stoke, while Wigan, Blackburn and Aston Villa could also be relegated.
But Hughes is not focusing on results away from Loftus Road.
Big opportunity
He added: "As a home side, you would anticipate that they would feel it is a big opportunity for them as we do being the home side in our fixture.
"It is about getting the job done yourself and we can't worry too much about what everybody else is doing at this point.
"If we get three points at the weekend, we will have done our job and can look ahead to the Man City game."
QPR's hopes were boosted during the week following Bolton's 4-1 home defeat to Tottenham, which kept Owen Coyle's side in the bottom three.
The scores were level in the second half before Spurs scored three quick-fire goals to secure the points and keep QPR's fate in their own hands.
Hughes admits he watched the game on Wednesday night: "I put myself through that. I think everybody at this time of the season deals with it in different ways.
"I was of the view that I needed to sit through it and take it in and deal with it.
"From our point of view, had Bolton won that game it would have made it more difficult for us.
"But that didn't happen so we've got somewhat of a lift as a consequence and that obviously helps to make the game on Sunday so huge."