QPR's Philip Beard says relegation scrap is not an option following summer spending
QPR chief Philip Beard says another relegation scrap is not an acceptable outcome this season after splashing the cash.
Last Updated: 06/09/12 11:44am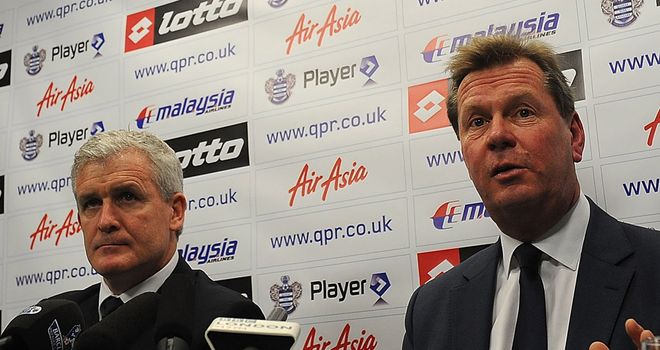 Manager Mark Hughes bought enough players to field an entire new team before the August window shut after Rangers avoided the Premier League trap door by the skin of their teeth last term.
The recruits included several big-name players and Beard told London 24: "We haven't made the investment of this summer to simply compete at the same level as last season.
"The investment has been made so that we feel we are a club which can compete against - and beat - every club we play.
"We all believe that the squad we have now should be able to get stability in the Premier League - not fighting for survival."
Beard has played down fears QPR have spent beyond their means, especially on wages.
Balance
He said: "Some clubs have spent £12million or £15million on one player. You would struggle to get that sort of number for all the players we have signed.
"What we have done is strike a balance. I have looked at it long and hard, and there are some very talented young players we have brought to the club who I think will be available for a long time to come."
The summer transfer window was QPR's third in a row that witnessed a huge influx of players but Beard is confident such a turnover will not be repeated.
He also defended the decision to sign goalkeeper Julio Cesar from Inter Milan barely two months after recruiting England's Robert Green.
"The club now has two very strong goalkeepers, and Mark will decide which one plays when," he said.
"It wasn't something in his mind, that Julio Cesar could come to the club a very sensible way, and we decided to take that opportunity. The best teams have strength in every position."