Bobby Zamora says he will shake John Terry's hand when QPR face Chelsea
Bobby Zamora is not paying attention to the hype surrounding John Terry's return to Loftus Road and will shake hands.
Last Updated: 14/09/12 9:52am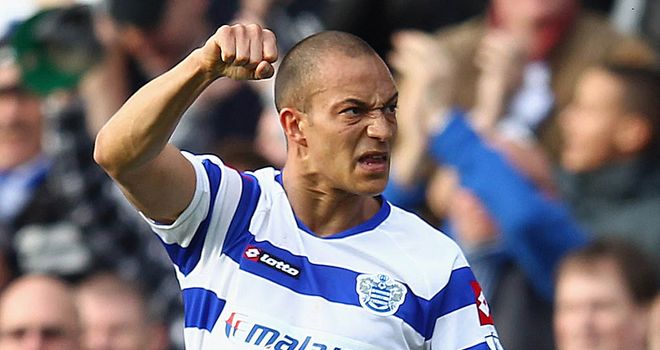 Queens Park Rangers and Chelsea are in talks ahead of Saturday's match about how to handle the pre-match handshake ritual.
It is the first meeting between the clubs since Terry was found not guilty of using a racial slur against the Hoops' Anton Ferdinand in the corresponding fixture last October.
Terry, who remains the subject of a Football Association investigation over the charges that he denies, is expected to recover from an ankle problem in time to feature.
Ashley Cole, who appeared as a character witness for Terry, is also set to feature and there has been speculation about whether Ferdinand will shake the hands of some of the Chelsea players.
The tradition has been scrapped in advance of the previous two fixtures between the teams but Zamora does not want to get involved in any feud and is just focusing on the match.
He has been Terry's friend since they played together as schoolboys and only joined QPR from Fulham in January, after the controversy started.
"I've known John Terry for years and he's a very good friend of mine," Zamora said in The Sun.
"We grew up together and of course I'll shake his hand if he's playing on Saturday.
"All this stuff happened a long time before I joined QPR.
"I came in as an outsider to it and I won't be paying attention to any of it.
"John is a very good player and it's going to be a real battle between us. I'm sure it's not going to be an enjoyable game with him coming through the back and smashing the life out of me.
"But that's what he's been like ever since we played together in Barking for Senrab when we were 13 along with Ledley King, Paul Konchesky and Jlloyd Samuel.
"My abiding image of JT then was a box-to-box midfielder with a curtains haircut, smashing in headers from corners.
"We've stayed in touch ever since and for me this game will simply be a case of getting out there, doing my job and getting points on the board for QPR."