QPR assistant Mark Bowen admits to bemusement at Loftus Road after poor start
QPR assistant boss Mark Bowen insists there is a feeling of bemusement at the club after the poor start to the season.
Last Updated: 01/10/12 7:19am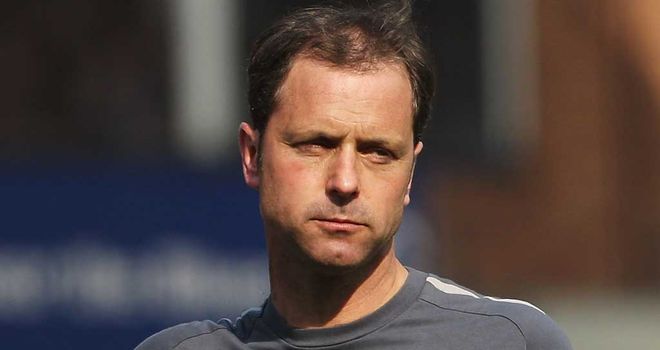 Rangers, who signed 10 players during the summer transfer window, have taken just two points from their opening five fixtures in the league.
The west London club suffered another setback in midweek when they were knocked out of the Capital One Cup by Reading, despite twice leading in the match.
And as QPR prepare for tonight's visit of London rivals West Ham, Bowen admits the time has come for the team to deliver.
"The overall impression among the fans, the players and staff is that we are all frustrated," Bowen said on QPR's London call-in.
"We have been saying: 'our season kicks off here' for the last couple of games. We have to start winning.
"We keep saying that we have been playing well for long periods against tough sides, but everyone knows we have to put a win on the board.
"It's ridiculous to look at a club with the quality we have got and see where we are in the table. It has been difficult, but we have to get some points on the board."
Any win will only come if the QPR defence sharpen up their act, Bowen claims.
"We have to cut out silly defensive mistakes," he added. "When we came in to the club last January I thought we were good at defending set plays. This year we have been a bit off.
"We aren't getting to the second ball and it has cost us dearly. We have to work on situations to make sure that the lads keep their concentration until the ball is cleared."
Bombed on
Bowen, who used to ply his trade at left-back, is also unhappy at the club's full-backs for their lack of discipline.
"At times we have let ourselves go defensively. Our full-backs have bombed on too much at the same time," he said. "One of them should be holding while the other one goes forward. We will work on those things.
"At times we have got excited and we have ended up chasing games. We have to remind the players that they have defensive duties at times."
QPR's sixth attempt at recording their first Premier League win of the season will come on Monday night against the Hammers.
Bowen raised hopes that two of the club's key players - Adel Taarabt and Alejandro Faurlin - will be fit for the game.
Taarabt has missed the last two games with a hamstring problem and Faurlin came off during the Reading game with a leg injury.
"Ale Faurlin took a nasty bump on his leg but we are hopeful that it will settle down and that he will be able to play," Bowen said.
"We are very hopeful about Adel. He has done a lot of intensive work with the physios so I would imagine he will be working with the main group of players over the weekend. I am sure he is putting his name forward for Monday."