Queens Park Rangers manager Mark Hughes remains confident he can succeed
QPR boss Mark Hughes believes his team will start winning soon and has reiterated that he has the backing of the board.
Last Updated: 20/10/12 11:03pm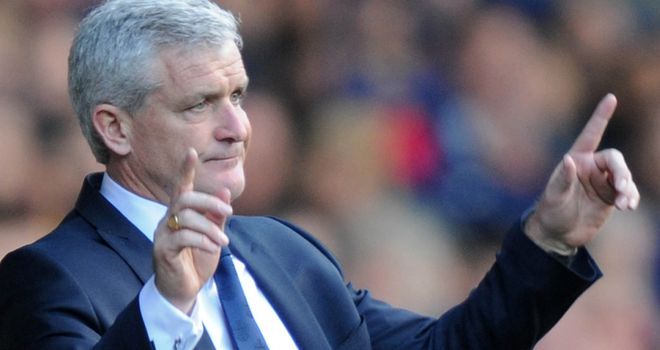 Despite a summer of spending, the Hoops currently sit bottom of the Premier League with just two points ahead of their home game against Everton on Sunday.
But Hughes is confident once the new acquisitions that have been bankrolled by owner Tony Fernandes gel then they will be successful.
He said: "Everyone understands what we are trying to do here. Tony and Amit (Bhatia, vice-chairman) and all the shareholders have been really positive in that regard.
"They knew and we discussed that there was a possibility the start of the season could be a little bit difficult because we had so many players coming in.
"We have also been hurt with the number of injuries which hasn't helped matters but I think we are all comfortable that at some point in the very near future, once everything settles down, once we get a settled side then the quality we have will let us win Premier League games.
"We are very positive that once we get points on the board that will continue until the end of the season.
"I've got great support and I think it is a consequence of the work we have done in such a short space of time.
"We have taken the club a long way - not only off the field but I feel in terms of the personnel we have been able to attract to the club."
Longevity
The 48-year-old former Wales boss feels it is vital that managers are given time and believes he has earned the chance to stay at Loftus Road after keeping the club up last season.
"Longevity is vital to a club and certainly one in our position who are only in their second season after coming up from the Championship," he said.
"You need that continuity and longevity of players and management to enable you to grow as a group and chopping and changing personnel is difficult.
"The job we did from January (when Hughes was appointed) until the end of last season was a huge job.
"Whatever success I have in the future and whatever success I have had in the past, the job that we did from Jan until the end of the season was huge and was right up there in what I was able to achieve.
"I don't think that will change anytime soon, I think it was a massive job that we had to undertake and achieved, we are still very early in the process and we are still trying to move this club forward and we will do."