'It has set us back'
Dion Dublin would have joined Rio Ferdinand and Jason Roberts in refusing to wear Kick It Out T-shirts if he agreed with their principles
By Peter Fraser - Follow me on Twitter @SkySportsPeteF
Last Updated: 24/10/12 3:24pm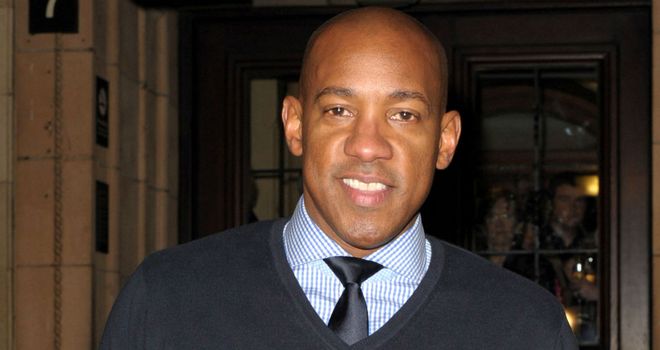 Former England international Dion Dublin has expressed his sadness at the apparent failings in the fight against racism in football but believes the Kick It Out campaign can continue to make strides.
Race-related discrimination has come under increased scrutiny over the past year after cases involving Liverpool striker Luis Suarez and Chelsea captain John Terry, who is currently serving a four-match domestic ban for abusing Queens Park Rangers defender Anton Ferdinand.
FIFA president Sepp Blatter had also caused controversy last November by airing his belief that racism did not exist in football, which seemingly underlined the complacency about the issue in the sport.
Last weekend, Manchester United's Rio Ferdinand, brother of Anton, and Reading striker Jason Roberts, who is also a member of the Professional Footballers' Association's management committee, were among a number of black players who refused to wear Kick It Out T-Shirts in a demonstration of their dissatisfaction.
And ex-Manchester United, Aston Villa, Coventry City, Celtic and Norwich City player Dublin, who retired at the end of a 20-year career in 2008, is disappointed incidents over the past 12 months have returned racism to the news agenda.
"It is sad," Dublin told Sky Sports. "We should not be talking about this again. It has set us back, slightly, to the Seventies and Eighties when racist issues were quite strong.
Take notice
"But then the PFA, the Football League, The Football Association and Kick It Out have done so well to go to such lengths to get it to where there is only a very small percentage who still get away with it.
"Unfortunately that percentage has reared its head again with the odd shouting comment coming from supporters. There have been some incidents on the pitch as well.
"What has happened is something that everyone has sat up and taken notice of and it is something we have to deal with. Hopefully we can do sooner rather than later."
The PFA, which founded Let's Kick Racism Out of Football in 1993 prior to establishing Kick It Out as a body in 1997, on Wednesday revealed a new six-point plan to tackle racism in football.
One point is a proposal to adopt the 'Rooney Rule', which was introduced by the NFL in America in 2003 to make sure qualified black coaches are on interview lists for managerial job vacancies.
But Dublin said: "The argument is, first and foremost, are there enough black players who want to be managers and coaches?
Wrong
"The second thing is, are these black players who want to be managers and coaches applying for these jobs?
"If they are and there is a 50-50 split of black people and white people applying for these jobs, then there is something wrong with the system, because there are not enough black people in those positions.
"But we do not know that. We do not know how many black people are actually applying for these jobs."
The decision of Ferdinand and Roberts to snub the Kick It Out T-shirts has seen some critics question the work of the body, the limited resources it has to work with and its dependence on the PFA, Premier League and FA for funding.
Dublin does not believe criticism is fair and is in no doubt about the positive steps which have been undertaken but he also admits he would have joined Ferdinand and Roberts in their protest if he agreed with their personal principles.
"Incidents which have happened over the weekend, with Rio and Jason not wearing the T-shirts, if their reason is strong enough for them not to do it, I would have backed them and I would not have worn a T-shirt," said Dublin.