Goalkeeper Julio Cesar believes QPR will soon be 'internationally respected'
QPR goalkeeper Julio Cesar believes that the club should have dreams of being "internationally respected".
Last Updated: 03/11/12 11:51am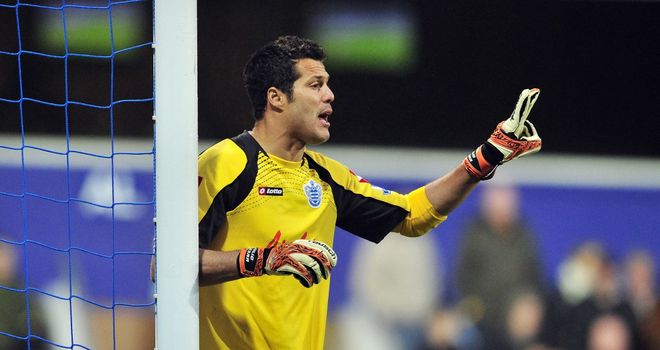 The Brazilian was signed on a free transfer following his release from Inter Milan on a surprise four-year deal. He won five Serie A titles, three Coppa Italia trophies and the Champions League with the Italian giants, but Cesar does not accept that QPR are a significant backwards step.
The Hoops face Reading at Loftus Road on Sunday in a game between the Premier League's bottom two sides, but the keeper is already thinking far beyond a relegation battle.
"There were four days of the transfer window left when Queen's Park Rangers presented me with their project, and I liked it", Cesar told the Independent.
"I thought it would be great to be part of a club that was thinking in terms of becoming big, and thinking about being internationally respected. I believe that in two or three years, the club can turn the project into reality and if I could be part of that I'd be very proud.
"It would be like winning the Champions League again."
Discussing QPR's poor start to the season, Cesar feels that his side have been unlucky: "It's the little details; against Everton, for example, we could have had a penalty, which if we scored we could have gone on and got a different result and now against Arsenal [they scored] an offside goal.
"There are a lot of points still to play for, and I think we're on the right road."