QPR manager Harry Redknapp admits he needed a break from football
New QPR boss Harry Redknapp admits he needed a break from football after enduring an extraordinary 2012.
Last Updated: 27/11/12 10:00am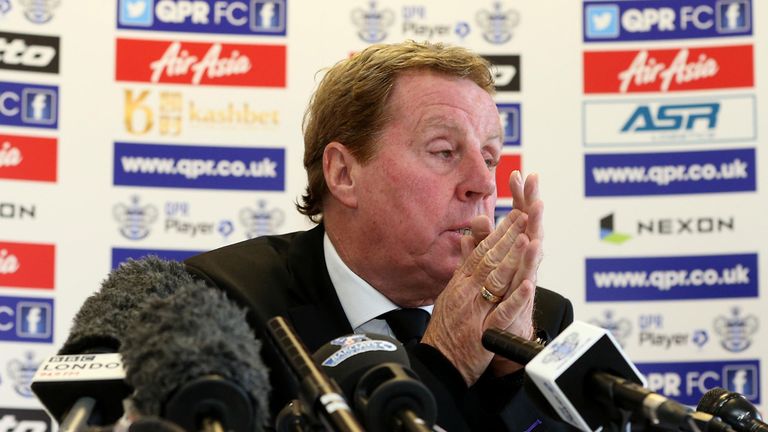 Redknapp takes charge of QPR at Sunderland on Tuesday night following almost six months out of the game since being sacked by Tottenham in June.
The 65-year-old has a tough task on his hands given that the Hoops have picked up just four points from 13 games.
But after a tax evasion trial in February, from which he was cleared, Redknapp is not feeling too stressed about the prospect.
Asked if it had been the craziest year of his life, he said: "Yeah, oh yeah. Certainly. The whole thing was a bit bizarre, wasn't it?
"I probably needed a break. Maybe it wasn't the worst thing that could have happened to me."
As for missing out on the England job to Roy Hodgson despite being the favourite for the post, he insists he was not fazed.
"I didn't go home that night when I heard on the radio that Roy had been given the England job and lock myself up in a room," he added.
"I didn't go away from Tottenham that night when Daniel Levy sacked me and want to jump off the edge of Bournemouth Pier. The next day I am up playing golf. I mean, what can I do? That is the way that I am."
Redknapp has vowed to axe any QPR player who does not pull his weight as he faces up to the "toughest" challenge of his managerial career.
Redknapp insists Rangers' "nice" owners have not been given the results they deserved for the money they had paid for their squad in transfer fees and wages.
"We've got four points from 13 games, which is an incredible, low total. We've got to do better to give ourselves and opportunity to get out of this mess. I need people that are going to work.
"When they lose the ball, chase it. It's what you learnt when you were at school. That's what you did in the playground. I need 11 people with the ability to put effort in. And if they give that effort then we've got a chance of surviving.
"If they don't, they're not going to play to start with and I'll find another 11 who will run about and work hard."
He added: "I've got no time for people losing the ball and throwing their arms up in the air, and standing around with their hands on their hips.
"We're in a relegation battle, we've got four points. It's their fault - it's nobody else's fault. If everyone works, the ability's there. I've got to make them work and get the best out of them now.
"If they do that then we'll be okay, we'll survive."
Spurs and Portsmouth were also in dire trouble when Redknapp took charge and he transformed both clubs' fortunes.
But he said ahead of his first game in charge against Sunderland: "We mustn't kid ourselves. This is much tougher than those two jobs in my opinion, but I'm optimistic we can pull it off."