Joey Barton says Marseille are keen for him to extend his loan stay in France
Joey Barton says he thinks QPR will be relegated and is hoping to extend his spell at Marseille rather than return.
Last Updated: 30/11/12 5:34pm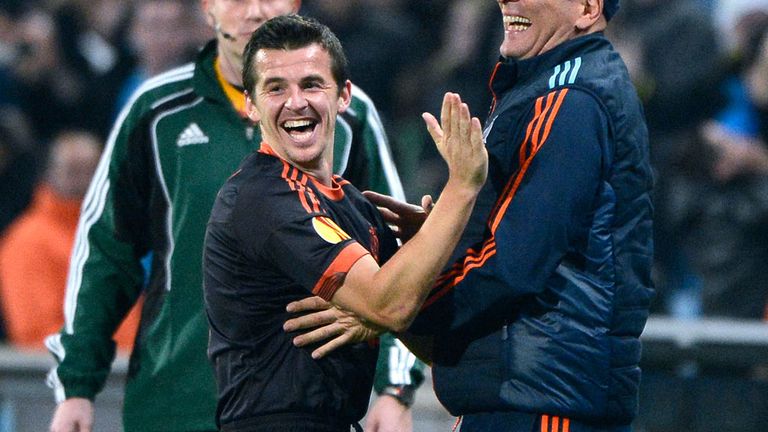 Barton joined QPR last year but has now been sent to Marseille on a season-long loan deal and, in his absence, Rangers have made a terrible start to the season and are four points adrift at the bottom of the Premier League.
Their winless start has led to Mark Hughes being replaced by Harry Redknapp as manager but Barton remains reluctant to re-join his parent club.
He said: "The likelihood is, unless there is a massive turnaround in fortunes, QPR will be in the Championship next season.
"What it seems to me as a neutral - and I am in France, no matter that I am contracted - is that they have got a big case of a lot of good quality individuals but not a good team.
"For me to be part of the side that stayed up and not be part of the side that went down, it would be difficult for me to go back.
"I haven't closed my mind to it, although I would really like to stay here. I'm in a good space mentally.
"I've held preliminary talks with Marseille about extending my stay here. They have asked me whether I would stay beyond the loan period."
Barton was sent off at Manchester City on his most recent appearance for QPR at the end of last season and then received a 12-game Football Association for two counts of violent conduct.
And, although he has two years left on his QPR deal, he added: "It didn't end in great circumstances in West London for me.
"I know there has been a change in terms of the management structure but something like that, and what goes on around that, lives with you beyond a managerial change."
Redknapp chance
However, Barton thinks the hiring of Redknapp does improve QPR's chances of beating the drop.
"Harry Redknapp's record speaks for itself," he said. "This time last year he was being talked about as the only successor to (former England boss) Fabio Capello.
"He has always done well with players and always got players on board. He is a really good man-manager.
"If anyone can pull the players together, a manager of Redknapp's calibre is capable of that. They are in with a good chance now with Harry there."