Wesley Sneijder has been offered to QPR, claims manager Harry Redknapp
QPR boss Harry Redknapp claims he has been offered the chance to sign Inter Milan's unsettled star Wesley Sneijder.
By Graeme Bailey - Tweet me: @graemebailey
Last Updated: 04/01/13 5:46pm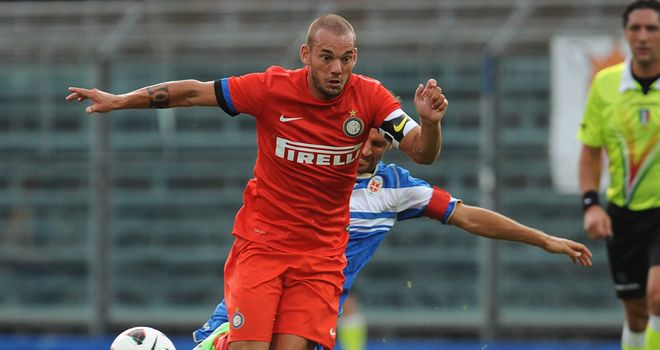 The Dutchman is in dispute with the Italian giants and has not played since September, and that has seen him linked with a January switch.
No bids have materialised, but Redknapp has revealed that QPR have been invited to make a move for the 28-year-old.
But Redknapp insists his wages, which he claims are £200,000-a-week, are too much for them.
Redknapp told The Sun: "I was asked by one agent if I wanted to sign Sneijder.
"Of course I do. However, he's on about £200,000 a week and now he wants to join QPR?
"I won't name the agent, but let's just say I think a deal is unlikely."
Inter have asked Sneijder to take a pay cut if he wants to stay at the club, something he has not agreed to do.