Harry Redknapp criticises Roberto Mancini over Mario Balotelli clash
Harry Redknapp has criticised Roberto Mancini over his training-ground clash with Mario Balotelli.
Last Updated: 05/01/13 8:03pm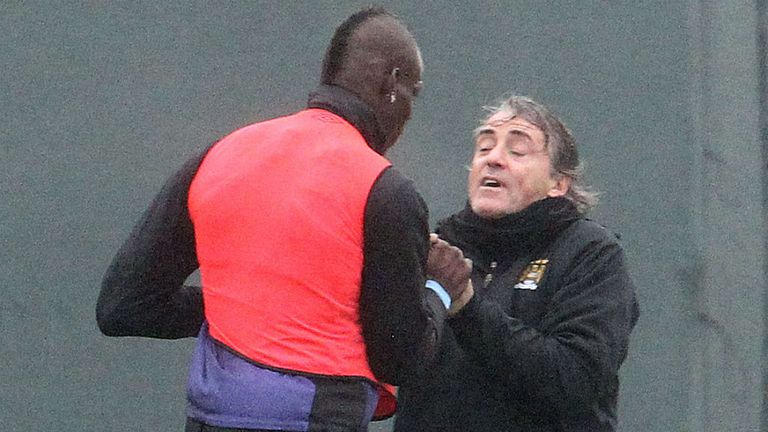 The Italian duo were photographed grappling with each other on Thursday after Mancini reacted angrily to a mistimed challenge from Balotelli on Scott Sinclair.
The former Inter Milan boss admitted at a press conference on Friday that he lost his temper for "one or two seconds", but ultimately played down the incident and insisted it was not the end of Balotelli's Manchester City career.
However, Queens Park Rangers manager Redknapp said Mancini was wrong to confront a player in such a way.
He said: "You shouldn't get in those situations. What can you win? It can't happen with players now. Shouting and screaming at players doesn't get you anywhere.
"Years ago it used to happen. Years and years ago some managers would be throwing cups around. Those days are long gone.
"You lose their respect if you behave like that. You have to talk to them.
"Roberto Mancini's a top manager, but I'm sure Balotelli can get you like that."
Despite being critical of Mancini, Redknapp sympathised with him for having to manage Balotelli, whose erratic behaviour even Jose Mourinho struggled to curb during the pair's time together at Inter.
"It can't be easy to deal with him," Redknapp said. "It must be difficult for Roberto. You only have to see the way he is.
"If Mourinho has a problem with him and can't handle him, he's got to be difficult hasn't he?
"The boy's a good player, but obviously there is a problem there somewhere with his attitude.
"I think the only person that could help him is himself."