Tony Fernandes will not walk away from QPR says chief executive Philip Beard
QPR chief executive Philip Beard says the owners are committed to the club and will not leave should they get relegated.
Last Updated: 05/02/13 1:23pm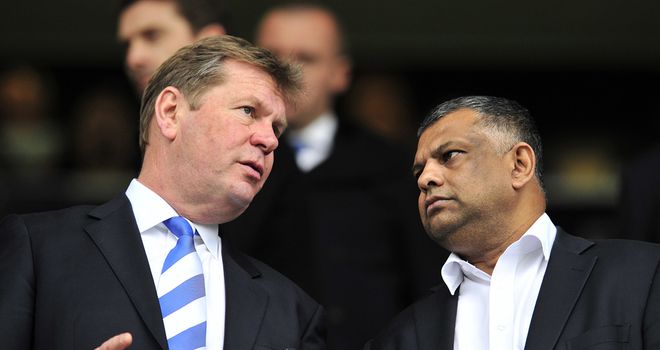 Rangers are bottom of the Premier League and in severe danger of relegation, leading to speculation that chairman Tony Fernandes could step aside despite investing a huge amount of money in the club.
Fernandes has said he will not outstay his welcome but has the support of the majority of QPR fans and Beard.
"Tony Fernandes has never said he will leave the club if we're relegated," Beard told the club's official website.
"We have got wonderful owners. Tony has been at the forefront of it, but we have got three other fantastic owners in Din (Kamarudin Bin Meranun), Ruben (Emir Gnanalingam) and Amit Bhatia.
"We are in it for the long term. We have got short, medium and long-term ambitions.
"This is a tough, tough season for us but whatever happens we are focused on what we have to do over the long term."
QPR invested heavily during the January transfer window, bringing in Christopher Samba from Anzhi Makhachkala and Loic Remy from Marseille.
But Beard has refuted claims that the deals broke the bank and put the long-term financial future of the club at stake.
"I can reassure QPR fans that we have owners who are very successful businessmen and very sensible in business," he said.
"Recent reports regarding what money our players are on are completely wide of the mark. Chris Samba was keen to come back to England, this is where his family are.
"He is not on anything like has been suggested. Even if we win trophies, with all sorts of different bonuses, he would not get anywhere close to the money that has been reported."