Monday Night Football: QPR defending unexplainable, says Sky Sports' Gary Neville
Gary Neville was left baffled by QPR's defending at the weekend but thinks they could still escape relegation.
Last Updated: 25/02/13 10:16pm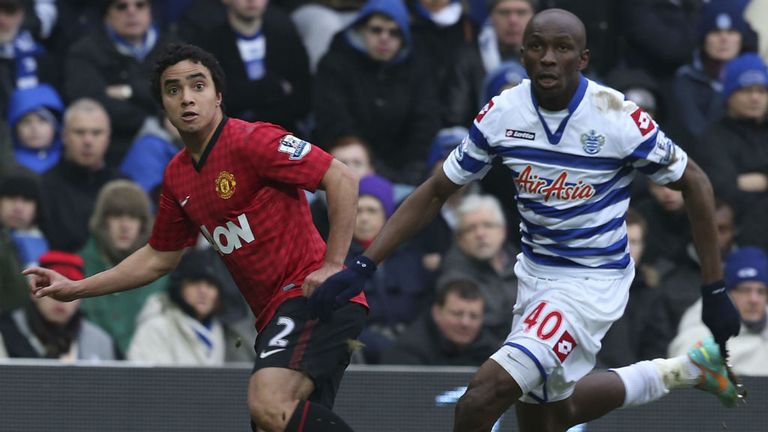 A 2-0 defeat by league leaders Manchester United on Saturday left Harry Redknapp's team at the foot of the table and seven points from safety with just 11 matches remaining in the season.
There was little QPR could do to stop Rafael from opening the scoring with a wonderful strike but Sky Sports expert Neville was less than impressed with the defending which allowed Ryan Giggs to add United's second.
Jose Bosingwa permitted Danny Welbeck to set up the goal while Stephane Mbia moved away from play, seemingly adjusting his gloves rather than focusing on the game, before Clint Hill and Christopher Samba were caught out of position.
"You can talk about tactics and analysis all you like," Neville said on Monday Night Football. "You can potentially say, 'Okay, Clint Hill, you maybe should have gone in there'. You can maybe say, 'Samba, you should have adjusted your position.'
"They are tactical, football points - players maybe not seeing the danger early enough. (But) I cannot understand what Bosingwa and Mbia have done.
"They are things which go beyond football analysis, because, to walk away from the game, which is something Mbia has done, is unexplainable."
But Neville does not think QPR are certain to be relegated and the former England international and ex-United defender is in no doubt about the importance of this weekend's game at Southampton, who sit 16th in the table and 10 points above their next visitors.
Neville reckons the factors in QPR's favour are the presence of manager Redknapp, who steered Portsmouth to safety in 2005/06 when they had been eight points from survival with 11 games remaining, and a favourable fixture list for the rest of the season.
After Southampton, QPR also still have fellow strugglers Aston Villa, Wigan Athletic and Reading to play before May and wins in those matches could let them potentially climb out of the relegation zone.
"When I see the things that are happening (against United), it is not what I think of in the Premier League - fighting to get into challenges and getting across the sides," said Neville.
"But I sense that, two or three months out, this thought is going deeper into the back of this thick skull that QPR still could, and may, get out of it (relegation).
"Southampton could almost put QPR to bed on Saturday. But if QPR win and bring Southampton back into them, they could potentially go on a run."