Harry Redknapp warns QPR fans not to expect an easy ride in the Championship
Harry Redknapp says QPR will find it hard to secure an immediate return to the Premier League should they be relegated.
Last Updated: 21/04/13 3:31pm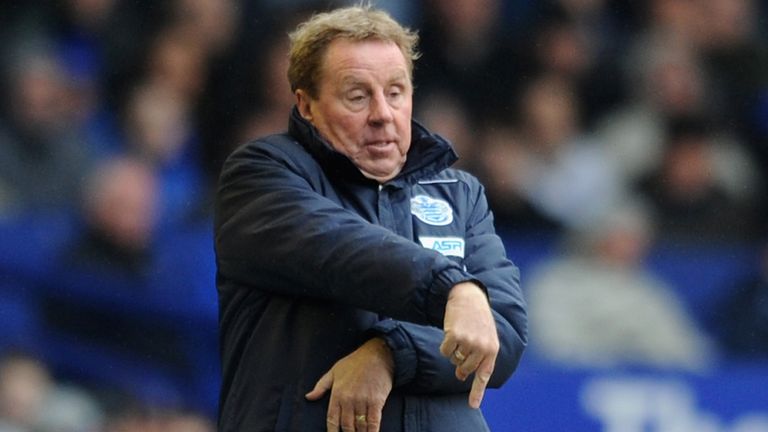 Rangers' fate was all but confirmed following Saturday's 2-0 home defeat to fellow strugglers Stoke, which left them 10 points adrift of safety with just four matches remaining.
"I think this is a good club but when people say 'well, they'll come straight back up next year', it will be very hard to do that. Don't kid yourselves," said Redknapp.
"Whatever happens, the Championship is a tough, demanding league and you need players that are ready and willing to play Monday, Tuesday or Wednesday and then Saturday.
"You need the right characters if you're going to get out of the division and that is something that will have to be looked at very carefully."
Redknapp admitted that, if he were still at the helm next season, he would need to make some additions to his squad but warned the club that they must also invest in a new pitch at Loftus Road.
"I think you would have to look and try to bring one or two right types (of player) in," he said. "They might be in lower divisions but lads that would love the opportunity to come here and play.
"I am not saying we play like Barcelona but that football pitch is not conducive to good football, I don't care who is in charge.
"That pitch is the bumpiest, bobbliest - it is a lower third division pitch. The first thing the club need to do, I think, is invest in a new pitch in the summer if you want to produce a team that can play some football.
"It is a very, very difficult pitch for even good technical players to try and play on.
"If you want to produce a team and put a team together that can try and play their way out of the division, which is the only way I would go, we would need a new pitch here."