Bouncing back
Matt Phillips discusses Queens Park Rangers' impressive start, clean sheets and a summer switch.
Last Updated: 19/12/13 4:46pm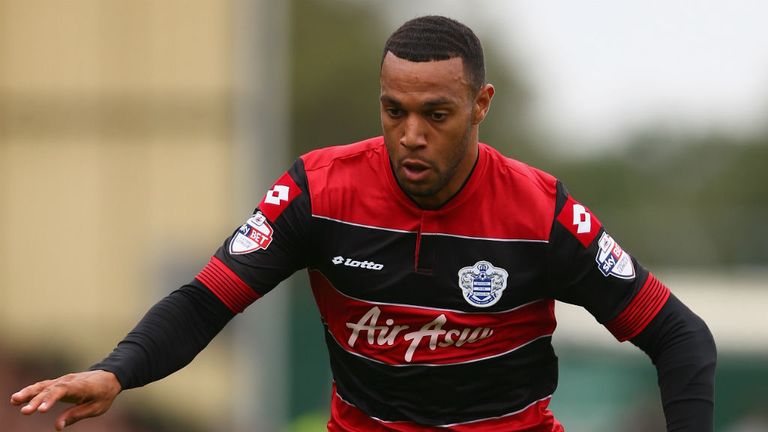 The new season is upon us, with the 2013/14 campaign starting to take shape.
Here at Sky Sports we will look to take you to the very heart of the Football League over the coming months, with our Spotlight features intended to give you a greater insight into the clubs and players that keep us on the edge of our seats.
We hope to bring you the views and thoughts of a representative from each of the 72 teams over the course of the season, with those involved asked to give their take on the division they compete in, the club that pays their wages and those we should all be keeping an eye on.
Queens Park Rangers' Matt Phillips is next into the hot-seat, with the highly-rated winger taking time out to discuss a positive start to life in the Championship, clean sheets and a summer switch with Chris Burton.
It's always important to start the season well, but it's all the more important isn't it when you are expected to do well and you need to establish momentum early?
Definitely. In any season you want to get off to the best start possible. We are looking solid, we aren't conceding many goals, and we are winning games. We haven't really hit the heights that we know we can, we've got a great squad, so it looks good for us.
You've played enough Championship football to know how tough the league can be and that some relegated sides can find it difficult to settle, but there has been no sign of that has there?
As I say, we have got off to a good start and have looked solid at the back. When it all comes together we are going to be a real force. We have got some great players, top players that are used to playing in the Championship or the Premier League. It's going to be a really exciting season for us.
There appears to be a different mood around the place - with the new faces that have come in and players that weren't playing as much as they would have liked last season, relegation doesn't appear to have hit you too hard does it?
No. There is a good buzz around the changing room. We have got different personalities, but everyone is pulling in the same direction and that's a big thing.
Has there been a concerted effort to try and keep things tight, with a defensive record of just two goals conceded standing in stark contrast to how things went last season?
I can't really comment too much on last season, I wasn't here, but this season, the few weeks that I have been here, the back four and the midfield four have all come together well. When you have got top players all playing together and pulling in the same direction, it's always going to keep things tight.
Clean sheets are half the job aren't they, as you've only scored eight goals but have been picking up wins?
Yes, that's the main thing - to keep winning football matches. Clean sheets are always pleasing for the team as well. You can always build if you've got clean sheets, build on that.
You have failed to score more than once in the league since the opening day, though, so that's something to look at isn't it and there is room for improvement there?
It's something that we have worked on. There are a lot of talented players here and it's only a matter of time before it all comes together, and then we will start scoring more goals and creating more chances and things will look even better for us.
You have plenty of firepower in the squad don't you - Austin, Kranjcar, Wright-Phillips Hoilett, yourself - you all know the way to goal?
Yes, and those players have done it in the Premier League, done it in the Championship. Like I say, it's only a matter of time. If we keep working on the right things, doing the right things and creating more chances, that's always going to lead to more goals and we will start winning games three or four nil, which we know we can.
It's important isn't it then everyone chips in, you can't afford to rely on one person to get the goals - with Charlie Austin doing the business at the moment?
No. Charlie had a great season last season and you can see in training he peels into the right positions and he's always going to score goals - he's a great finisher. You have got Joey Barton, you've got Junior Hoilett, Shaun Wright-Phillips, myself, Niko Kranjcar, you can go on all day. It's a top squad and there are a lot of attacking players there that are going to score goals and chip in when it all comes together and clicks.
The transfer business has been really impressive hasn't it, with the arrival of experienced internationals such as Richard Dunne, Niko Kranjcar and Benoit Assou-Ekotto highlighting the club's ambition?
Yes. Harry Redknapp is a top manager and he's always going to attract that type of player. Especially for me, I came into a side full of top players and that's only going to improve my game and everyone else is going to improve and we'll end up back where we feel we belong - in the Premier League.
On a personal note, are you happy with how things have gone since your move from Blackpool?
Yes, delighted. It was tough when I was injured, I had a broken arm, so it has been tough for the last couple of weeks, but last week I made my debut and since then it's been about getting back to match sharpness and firing on all cylinders.
You have signed a long-term contract, so I suppose you believe that you've joined a club heading back to the Premier League in a hurry don't you?
Without a doubt. The way Harry Redknapp and the management talk, their professionalism and the players they have brought in, everyone wants to be back there. We are all pulling in the same direction to make sure we get back there.
And I take it you are delighted to be able to put all of the speculation behind you and focus on your football again?
That's the main thing for me, I just want to be out there and enjoy my football again. I'm delighted to be here and I can't wait to get back to match fitness, scoring goals and creating goals and doing what I do and what I enjoy.