Harry Redknapp reveals extent of QPR dressing-room indiscipline
Harry Redknapp has lifted the lid on the "undisciplined" QPR squad he discovered when he took over as manager last year.
Last Updated: 09/10/13 12:38pm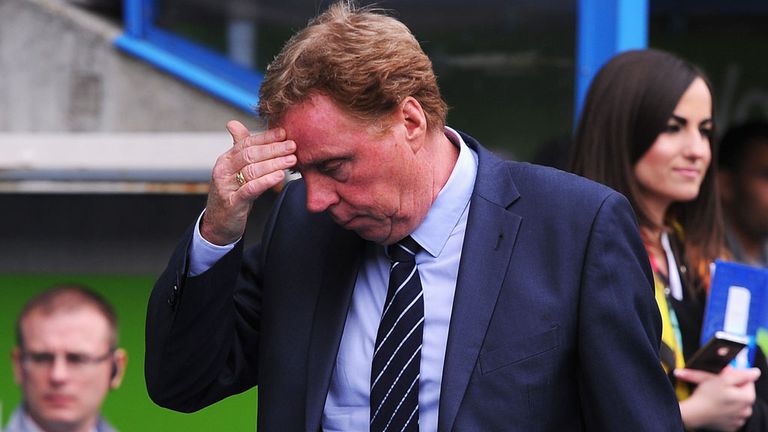 In the third part of a Daily Mail serialisation of his forthcoming autobiography, Redknapp has revealed the full extent of the dressing-room anarchy that was arguably the major factor in Rangers finishing rock bottom of the Premier League last season.
The west London club had taken just four points from their opening 13 Premier League games when Redknapp took over at Loftus Road on a two-and-a-half year contract the day after the dismissal of Mark Hughes.
Three straight draws and a first win of the season at home to Fulham briefly took them off the foot of the table, and when they beat Sunderland 3-1 in March, they were only four points from safety.
However, behind the scenes, Redknapp was fighting a losing battle with certain Rangers players and there was to be no 'Harry Houdini act'. The club failed to win any of their remaining nine league fixtures and were relegated.
"Jose Mourinho would not have kept QPR up last season," wrote Redknapp.
"The squad I inherited was poorly balanced, undisciplined and short of confidence."
Former Portugal defender Jose Bosingwa - a Champions League winner with Chelsea the previous season - was one of the worst culprits, says Redknapp.
"I found out the extent of the problem after we beat Fulham and Bosingwa refused to sit on the subs' bench," continued Redknapp. "I'd had problem players in the past, but I thought his attitude was disgraceful.
"I fined him two weeks' wages - and that was when I got the shock of my life when I found out how much he was on. Bosingwa's salary was ridiculous.
"The problem was, he wasn't the only one. It was scary. Within weeks I had worked out that my best player was Ryan Nelsen, a 35-year-old New Zealand international - and he couldn't wait to get out.
"'You've got no chance,' he told me. 'Not a prayer. This is the worst dressing room I've ever been in in my life. You haven't got a hope with this lot. I don't know how you solve it'.
"It was a squad full of very average footballers earning more money than they deserved. It made them very arrogant and contemptuous. They would rather come in late every day and just pay the fine than behave in a professional manner."
Hero Hill
Nelsen left Loftus Road at the end of January to coach Toronto FC in MLS, and although Rangers shelled out over £20million on Loic Remy and Christopher Samba, Redknapp could not save them from the drop.
He holds the greatest admiration for defender Clint Hill, voted Player of the Year by supporters.
"I felt truly sorry for the guys like Clint Hill," added Redknapp. "He was not the greatest player but he would run through a brick wall for QPR. You could tell he was disgusted with some of the attitudes he encountered.
"He didn't have the technical ability of those players but if we had more like him, we might have stayed up. It doesn't matter how good a player is technically - without desire, he is nothing."
Rangers have made an excellent start to the new Championship season - they sit joint top of the table - and 66-year-old Redknapp is determined to secure a quick top-flight return.
"Nothing would give me greater pleasure than to get Rangers back up," he said.
"I spent all summer trying to remedy our problems, shifting certain players out, getting others with the right attitude in.
"I know some of these players think they are better than this division but I've been down there and I know there are teams and players that will eat you alive if you are not fully committed.
"My priority was to get rid of the troublemakers. Get rid of them before they got rid of us."