Richard Dunne welcomes Martin O'Neill and Roy Keane appointment for Ireland
Richard Dunne has welcomed the appointment of Martin O'Neill and Roy Keane as the Republic of Ireland's management team.
Last Updated: 07/11/13 6:26pm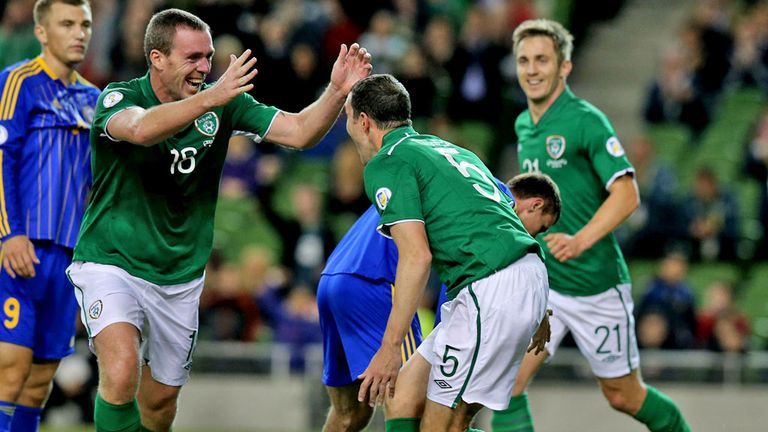 O'Neill, who will work with Keane as his No. 2, succeeded Giovanni Trapattoni on Tuesday, prompting widespread debate about whether the potentially explosive combination can restore the country's footballing fortunes.
However, QPR defender Dunne, who has won 79 caps for the Republic, believes the pair will be a success.
"I think it's a great appointment," he told Sky Sports News. "He'll certainly get everyone up for the games with his motivational skills - those are well known.
"He's got a good squad of players and it will give everyone a fresh start."
Dunne also played down suggestions Keane's involvement could cause friction with players he has criticised in the past.
"It makes sense that if the manager is a friend of Roy's and trusts him then that's who you want by your side," he added.
"Like Martin, Roy is a very determined character - a lot of people are making judgements over what might be but you just have to let them get on with it.
"The Irish public are behind them - it's football, everyone has their own opinions and you move on.
"I'm sure he'll do whatever Martin asks him to do - it's more about Martin O'Neill than Roy Keane - he's the manager and we all have to follow him."
Midfielder Keith Andrews, currently on loan at Brighton and speaking on Sky Sports News about O'Neill, added: "He's a fantastic manager, will lots of experience and great pedigree.
"It's a great appointment. He's a hugely popular figure in Ireland and it has been his decision to bring in Roy as his assistant."
But former Republic of Ireland manager Mick McCarthy was less forthcoming when asked about Keane.
The two famously fell out when Keane walked out of the Republic of Ireland squad shortly before the start of the 2002 World Cup after publically expressing his unhappiness with the facilities at their training base in Saipan.
McCarthy refused to comment when asked what he thought of the appointment and whether he had any comment on the FAI.
When pressed about the events of 2002, McCarthy said he "loved it".
"I had a great time," he added. "We went from 59th to 13th in the world and lost out on the last 16 of the World Cup on penalties. I had a great time, I loved it, we were successful."