Philip Beard vows to find balance for QPR in the Premier League
QPR chief executive Philip Beard has vowed they will not make the same mistakes again in the Premier League.
Last Updated: 26/05/14 6:54pm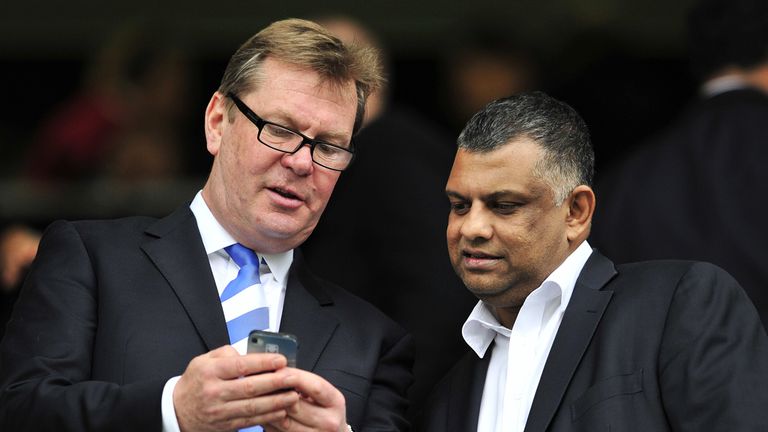 Bobby Zamora's last-minute winner in the Championship play-off final against Derby County saw Rangers regain their place in the Premier League at the first attempt - but Beard accepts things need to be done differently if they are to establish themselves in the top-flight.
Rangers lasted just two seasons following promotion in 2011 despite signing several big names on high wages in a desperate bid to avoid the drop - something Beard says they will avoid this time around.
"We got things wrong last time," he told Sky Sports News. "If you get relegated - by definition - you got it wrong.
"We want to make sure we don't make those same mistakes again. We need to find a balance and it's more about a type of personality and a type of player than a player's age or wages.
"We've got a lot of players who've played a lot of games in the Premier League and I think that's going to help us - we now need to add to that and bring in quality players to compete well in the Premier League.
"We've got a lot of planning and a lot of work to do to make sure we're ready for the Premier League - we've got do everything possible to put a squad together with the right type of characters and the right type of players to give it a proper shot next season.
"Anyone who's seen QPR this season will have seen that there's a spirit in the camp - there's a real togetherness that we've managed to harness and a lot of the credit for that goes to Harry and his coaching staff."
Beard refused to be drawn on reports linking the club with Rio Ferdinand and Frank Lampard and insisted the club is yet to start the recruitment process for next season.
"Going into the play-off final you have Plan A and Plan B and up until Bobby scored and the final whistle went you're not sure which plan you'll need," he added.
"We're taking a few days - we've just got to accept that you've got to enjoy what happened - and we'll be sitting down later this week. There's been a lot of speculation but I can promise you that we won't be taking calls or holding discussions with any players at the moment.
"QPR get linked with everybody and they (Ferdinand and Lampard) are fantastic players but I'm sure Frank Lampard is worried about a certain tournament in Brazil!"