Transfer News: Jack Collison hopes to earn Queens Park Rangers contract
Last Updated: 25/07/14 12:44pm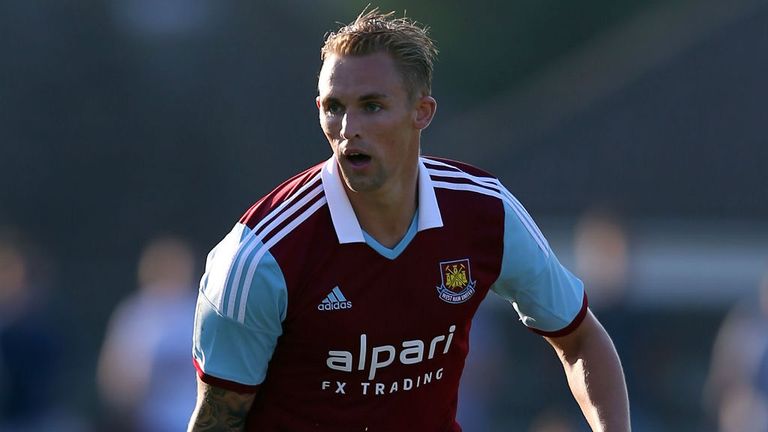 Former West Ham United midfielder Jack Collison is hoping to make the most of his opportunity with Queens Park Rangers and earn a contract at Loftus Road.
Collison was released by West Ham at the end of last season following a number of knee problems and he is now training with QPR.
The 25-year-old is with Harry Redknapp's squad on QPR's pre-season tour of Germany and he is hoping to be involved in the club's friendly programme.
"The first few days have been pretty tough, it's been quite a long summer," Collison told Sky Sports News.
"Although I've been doing a lot of work on my own, it's been mainly strength work, trying to build up my legs and that, so obviously the running was a bit of a shock to the system.
"I feel good and hopefully I can get involved in a couple of matches sooner or later.
"I've been working very hard over the summer. The manager here has been very good and has not pushed me too hard for the first days. He's easing me back in nicely."
He added: "If I come here and do well, then you never know what can happen but I'm also just trying to get myself fit.
"There's no pressure, it's a fantastic club and at the moment I am just grateful to have the opportunity to train with some good players and a fantastic manager.
"We'll just see how it goes, If I do well in a couple of games then you never know. But, if not, then I will have at least got some fitness and maybe some games and everyone is aware of my situation."
Redknapp said he had been informed of Collison's long-standing knee issue and was hoping to do his bit in keeping the Welshman involved in the game.
"I brought the boy in because I like him, he is a fantastic boy," said the QPR manager.
"He's got a chronic knee problem, it must be terrible so if I can help get him fit, I will. People have told me what a great lad he is and I knew he didn't have anywhere to train so I wouldn't say no to him.
"He is going through a lot and he is a real good player but his knee is horrendous, it's not fair."