Transfer news: QPR new boy Rio Ferdinand thrilled to work with Harry Redknapp
Last Updated: 28/07/14 4:06pm
QPR new boy Rio Ferdinand is looking forward to a 'fairytale' finish to his career after leaving Manchester United.
The 35-year-old centre-back signed a one-year contract at Loftus Road having been told he was surplus to requirements at Old Trafford - and the former England international is relishing the fresh start under his first manager at West Ham, Harry Redknapp.
Ferdinand told a press conference: "It's been really enjoyable. Obviously loads of running as it's pre-season. Harry's been working us hard. It's been a really good time and there are loads of good lads here. I'm looking forward to getting the season under way.
"The competitive edge was the overriding factor along with my family coming to London and working with Harry again. I had various offers from different places in the world. My agent spoke to various people but when Harry made the call, it was easy. I started my career under him at West Ham so this is a fairytale finish.
"I was doing TV work in Brazil and getting that itchy feet feeling of going back to training and doing pre-season but I didn't have a club. Then I spoke to Harry and we got to where we are quite quickly.
"When Ryan Giggs took over the job at United, he had to look at it and prepare as if he was going to be in the seat for next season and he made it clear to me that I'd have been a part of his plans. As you know, things in football change quickly. A new manager came in and things went a different way.
It's a different proposition to what I've been used to but it's a great challenge I'm looking forward to.
Rio Ferdinand
"I made it clear at the time - Manchester United had to tell me they didn't want me for me to leave the club and that was always the way it was going to be. That's what happened at the end of the season. The club said thank you and goodbye. That happens in football. The club's bigger than any player and I'm happy to be here now.
"It's a different proposition to what I've been used to but it's a great challenge I'm looking forward to. I play to win all the time whether it's a match or training and that's the case here. We want to win games and get the points on the board.
"We need to get points on the board as quickly as possible and hopefully after a successful season here, we'll be staying in the Premier League.
Playing
"Any team that comes up from the Championship, their main priority is to consolidate and stay in the Premier League. That's our goal for this season.
"I've played against most of the boys for many years and seen them about. It's a great bunch of lads to come into and I feel at home straight away."
More games that matter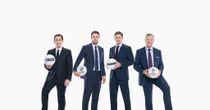 Click here to see Sky Sports' unrivalled schedule of live Premier League fixtures
When asked if he was targeting the captain's armband, Ferdinand added: "That's not on my agenda at all or something I've spoken to Harry about. I'm here to come and play football and help as a member of the squad. Anything else is down to the manager. The be all and end all for me is playing games.
"I don't think I've got anything to prove to anyone. I love playing in the Premier League and my competitive edge was an overriding factor in staying in this country and playing here.
"At my age, you take it year by year. I'm not stupid enough to think that I've got three, four, five more years playing in the Premier League. This year, I'd like to play as many games as I can and then you take stock at the end of the season."
Redknapp added of the veteran defender: "He brings a bit of class to the place. He's a class act on the field and off the field in my opinion. On the training ground he'll be a great role model for the young players at the club - the way he trains and the way he conducts himself. He'll be great for the club."