Premier League: Graeme Le Saux expects Glenn Hoddle to successfully implement 3-5-2 at QPR
By Lyall Thomas
Last Updated: 13/08/14 5:11pm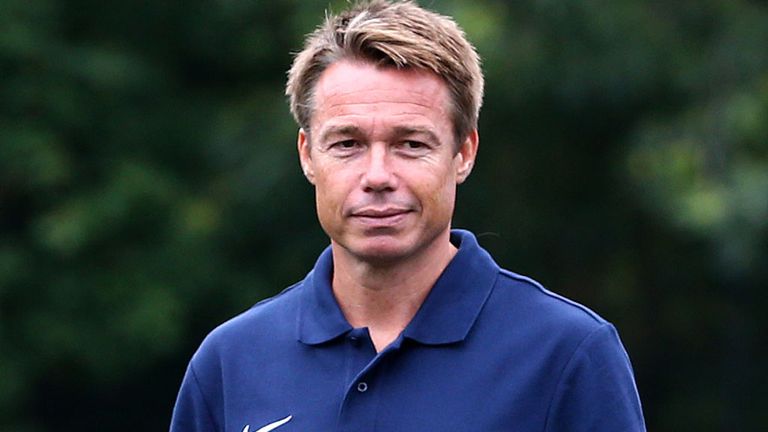 Graeme Le Saux has labelled Glenn Hoddle "tactically the best" coach he has worked with and believes he will be a success at QPR.
Boss Harry Redknapp has drafted in the former England manager to implement a 3-5-2 system at Rangers – which Hoddle used to great effect as boss of the international team between 1996 and 1999.
Hoddle, 56, has been out of the game for eight years following disappointing spells as manager of Tottenham and Wolves but has been keen to return for some time.
And Le Saux, who played under Hoddle for England and Redknapp at Southampton, believes his comeback is well-timed.
"He's a fantastic coach. I know from my own experiences working with him for England that tactically he was the best," Le Saux told Sky Sports.
"It's great that he's back in the game, back on the training ground, with his qualities and expertise. I'm pleased because I think that's where he's got a lot to offer.
"He was confident playing different systems. We played 3-5-2 back in '98 and it was a brave decision that took a lot of hard work, because all of us as club players were playing a variation of 4-4-2.
"Systems come in and out of fashion and are recycled and adapted. We've seen a resurgence of that at the World Cup with teams getting results.
"With Harry wanting to implement that, QPR is the right opportunity for Glenn to come back in."
Louis van Gaal is expected to implement the successful 3-5-2 system he used with Netherlands at Manchester United this season, and incite a new trend of wing-backs at other Premier League clubs.
And Le Saux, who played as a wing-back under Hoddle, does not see any reason why it cannot be a success in the modern game.
He said: "It will be interesting to see how many teams will use it. There's pros and cons to all systems and it's about who can utilise them best.
"The basic principles are the same; getting good possession, creating chances, scoring goals and not conceding any.
"In possession you would think it's in your advantage because you're using your tactics but out of possession you have to be very well organised. As a wing-back you can very easily get overloaded.
"Man United's Luke Shaw, for example, would be a fantastic wing-back because you need fantastic fitness to get up and down that line without a break. But you also need to understand your defensive responsibility and be able to pass on play. 
"You have to be clever and have quality going forward. Shaw has great delivery of the ball."
Graeme Le Saux was speaking exclusively to Sky Sports at the Premier League launch event at the Capital City Academy in London.