Premier League: QPR boss Harry Redknapp says Rio Ferdinand's class will be vital
Last Updated: 15/08/14 3:55pm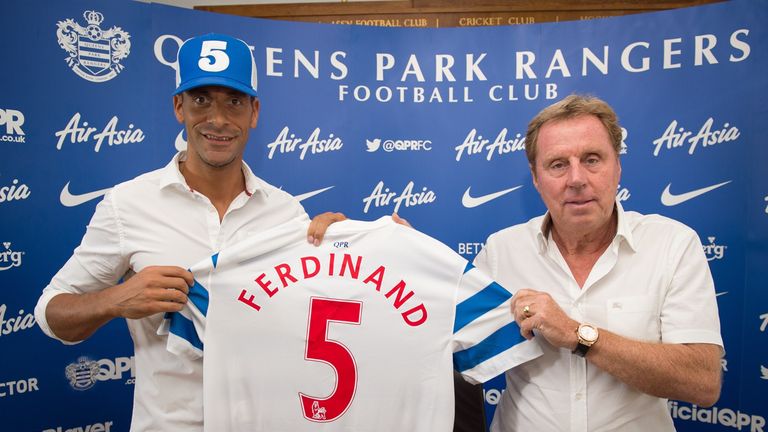 QPR boss Harry Redknapp believes Rio Ferdinand's class will be a key factor for the club this season, and says the player has already made a 'fantastic impact'.
Redknapp snapped up centre-back Ferdinand following his release by Manchester United this summer and plans to use him in a three-man defence at Loftus Road.
As well as helping develop fellow defender Steven Caulker, Redknapp feels the 35-year-old, who spent seven years at Old Trafford, still has a lot to offer as a player.
"He just oozes class, he's a top player and you can't replace that," he said. "He's been there and done it all, he's won everything there is to win, so we're just delighted to have him here.
"He'll definitely be a big influence on Steven (Caulker), I think he'll be a big influence on all the players.
"They look at how he trains, how he works: every day he comes in, works hard, lives his life right, he's always at the front of what we're doing in training and he's in great condition.
"He's a model professional."
Redknapp also confirmed Adel Taarabt, who is involved in an ongoing potential transfer to AC Milan, is not available for selection for Rangers' season opener against Hull City.
Taarabt still requires at least a fortnight of full training to reach full fitness, and Redknapp admitted the Milan deal is still not near completion.
"I don't know what he's going to be doing to be truthful," he said. "He's not fit. He's a good player when he's fit but I think he's looking to move.
"We just need a club to come in and pay the money, he's got a reasonable transfer fee that the chairman has put on his head.
"If anybody wants to buy him they have to come and pay that money. I wish him well because he's a good lad, but he just needs to get fit now.
"He needs to get himself fit to play, whether it's here or somewhere else.
"He's probably not done one day's real training since I've been back here. He's had injuries and everything else, and he's a player that needs to train.
"So he needs a couple of weeks' physical training now to get himself up to speed like the rest of the players."