Claudio Ranieri refuses to get drawn into mind games as Leicester fight for title
By Patrick Davison
Last Updated: 14/02/16 11:56am
Before the start of every press conference Claudio Ranieri goes round and shakes hands with every journalist.
It's not a superstition, he simply considers it good manners and likes a positive atmosphere. The problem is, it's starting to take rather a long time. Back in August it took just a few seconds to exchange pleasantries with a handful of reporters who work the East Midlands' patch.  
On Friday, at the King Power Stadium, it felt more like a royal visit as he worked his way round a press conference room packed with journalists from up and down the country.
"Too many journalists," he says with a smile after walking down the tunnel and into the dressing room for an interview that will help kick things off on this weekend's huge Super Sunday.
"The problem is my English, I don't understand all the questions - I just listen for words I know and go for the answer!"
While it's true that his English isn't perfect, he handles the media as he is handling everything during this most miraculous of title challenges - with charm, charisma and without breaking stride.
What's also true is that he goes for his answers.
His response to being asked if Leicester are starting to look over their shoulders is just one example.
"I am not a climber but I know it's important to look up, never down at what might happen. Look at the top of the mountain and say, 'Come on man!'."
It's not just what he says but the way he says it - always with a smile. Ranieri is showing no sign whatsoever of feeling the pressure. He's genuinely enjoying this, and why wouldn't he?
"I was so happy to come back to England, I want to come back to the Premier League," he says of the summer when he was announced as the surprise successor to Nigel Pearson and was pretty widely written off.
"From some people it was, 'Why? Why Claudio Ranieri? He's an old manager. Maybe he's not right for Leicester'. But I'm so happy because our goal at the start was to be safe."
Ranieri and Leicester defied the odds right from the beginning. Going top with a 4-2 over Sunderland on the opening day and basically guaranteeing their goal of survival with a 0-0 draw with Bournemouth on January 2 - a result which took them to 40 points, four-and-a-half months before the end of the season.
Despite that, it sometimes seems that, even now, he's not getting enough credit. Not when you consider just how improbable Leicester's title challenge really is.
'He's not meddled too much with Nigel Pearson's team' is something you hear often, but there have been changes.
After the 5-2 defeat to Arsenal in September, Ranieri changed both his full backs. And then there's the hours spent addressing the team's shortcomings.
"At the start of the season, every game we concede a goal. And I said, 'Come on, improve - when we make a clean sheet, I pay for a pizza'."
The pizza was bought after a 1-0 win over Crystal Palace in October, they've been harder to break down since.
"We work so hard, we watch so many highlights, we work on movement to improve the defensive line and now we are much more solid," says the man who began the season promising to make the team 'more Italian'.
This week Leicester prepare to face Arsenal again, on the back of that stunning victory at the Etihad, five points clear and with the chance to all but knock the Gunners out of the title race. 
In his pre-match press conference Arsene Wenger suggested Leicester might blink, once again Ranieri's response is a smile.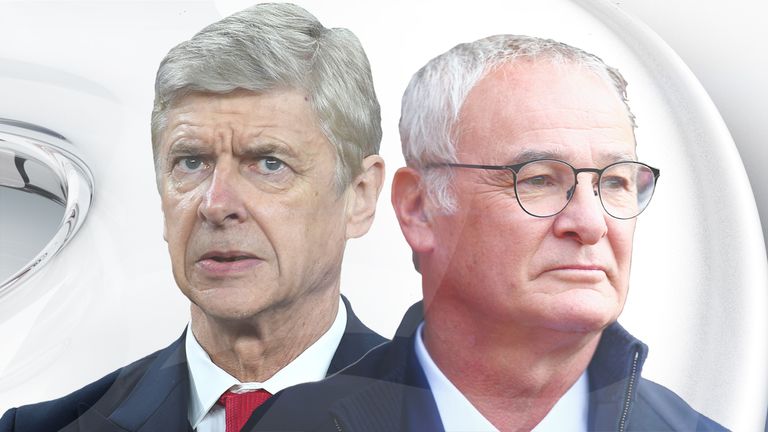 "I think it will be another open match," says the Italian, who you sense won't be drawn into mind games, no matter how close it gets to the end.
"We have two results because a draw is also good, if we lose it doesn't matter - champagne the same."
So could this be Leicester's year? The bookies say they're favourites, the manager, genuinely, has no idea.
"I'd like to say yes but it's Leicester, it's the first time. Our fans are dreaming, me too, but it's important to be focused and realistic.
"It's this year or nevermore because it's difficult to imagine next season, what happens. Next season I hope it will be between 10th and sixth position but now we are top and it's important for us to continue to fight."
However this fairytale season ends, you get the impression Ranieri will pour himself a glass of champagne and toast a season to a celebrate.