Controversial moments in Manchester City's win over Leicester analysed
By Peter Smith
Last Updated: 14/05/17 10:26am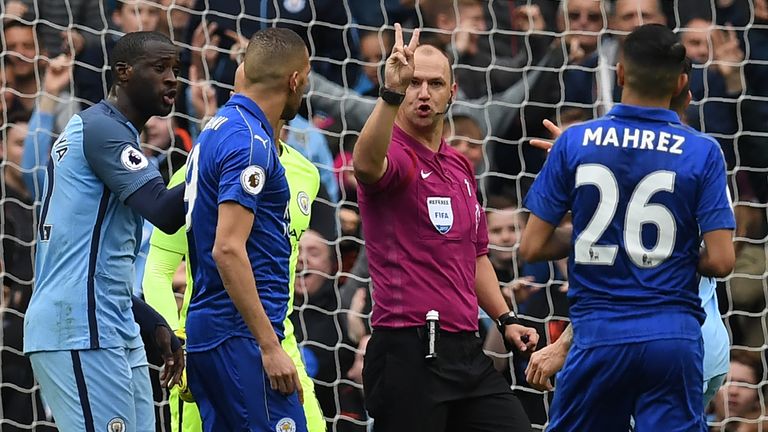 Manchester City grabbed an important 2-1 win over Leicester City to boost their top four hopes on Saturday - however, there were two controversial moments in the match.
David Silva's strike and a Gabriel Jesus penalty did the damage for the home side, while Leicester weren't able to add to Shinji Okazaki's acrobatic reply. But all the talk after the game was about a potential offside as Silva scored the opener and Riyad Mahrez's ruled out equaliser from the penalty spot.
"It's really harsh on Leicester," pundit Alan Pardew told Sky Sports. "Two massive decisions have gone against them. Man City got the breaks and got the win."
Here, we take a closer look at those two incidents…
Sterling offside for Silva opener?
What happened: Manchester City's David Silva converts Leroy Sane's cross to open the scoring. Raheem Sterling, standing in an offside position, swings his foot at the ball as it goes past him but doesn't touch it. The goal is awarded to Silva.
What's the problem? Leicester players complain Sterling's positioning blocked the view of goalkeeper Kasper Schmeichel and prevented defender Christian Fuchs from blocking Silva's shot - meaning he was interfering with play.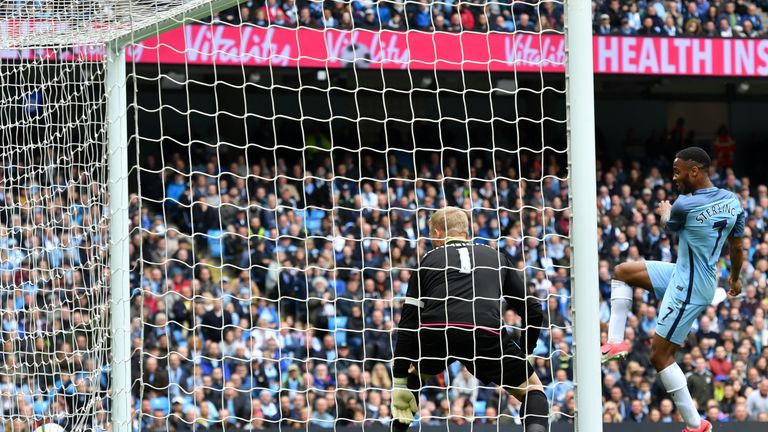 Players' verdict
Kasper Schmeichel: "The first goal is offside. Anybody who has played football, especially in goal, will know it's offside. If he's in the six-yard box and the ball is going by him, past my line of sight, that means he's interfering. It doesn't even matter if he goes for it, he's interfering because I can't see the ball.
"Fuchs can't get to the ball because he's stood in the way of him and prevents him from swinging his foot at the ball. Then he swings his foot at the ball, so he's made an attempt. So three times he's offside. It's one of these very frustrating decisions because we'd done well up until then and we kind of lost our composure for five or 10 minutes and they got the second one."
Raheem Sterling: "David shot and I realised if I touched it I'd probably be offside. So I tried to intentionally swing a foot at it and then I realised if I did touch it I'd be offside so I left it. I wasn't worried because I know I didn't touch it but I wasn't too close to it, so it was definitely David's goal and definitely deserved to stand."
Conclusion: The rules state that a player is offside and interfering with play if they 'prevent an opponent from playing or being able to play the ball by clearly obstructing the opponent's line of vision…or clearly attempting to play a ball which is close to him when his action impacts on an opponent…'. Sterling certainly seems to have ticked those boxes.
"If he's not there, I think Schmeichel moves another yard or two to his left [and has a better chance of saving Silva's shot]," says Sky Sports pundit Niall Quinn. "I'm sure of it; Sterling has impacted on what happened."
Mahrez's disallowed penalty
What happened: Riyad Mahrez is fouled by Gael Clichy in the Manchester City penalty area but when he steps up to take the spot-kick he slips and kicks the ball into his non-striking foot, sending the ball spinning past goalkeeper Willy Caballero. Mahrez celebrates but referee Bobby Madley rules out the goal for the double-hit penalty.
What's the problem? While the referee has strictly adhered to the rules, there have been high-profile incidents when players have got away with double-hit penalties. Bolo Zenden scored one for Middlesbrough in the 2004 League Cup final, while just this week Antoine Griezmann found the net in similar fashion in Atletico Madrid's Champions League semi-final with Real Madrid.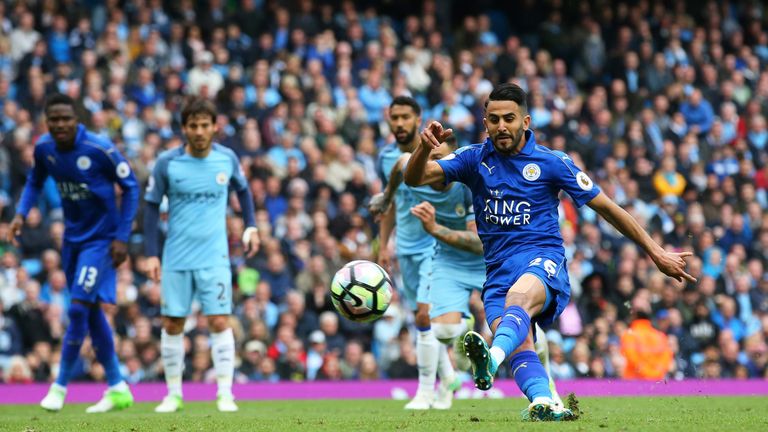 Players' verdict
Schmeichel: "It's very difficult to take. It wasn't given in the Champions League, so you never know with the consistency. Griezmann did it in the semi-final and it stood, so you talk about consistency."
Yaya Toure: "I was right behind him and you can see that [double-hit]. I think he slipped as well and in football you are unlucky sometimes but we're delighted because 2-2 would be harsh."
Conclusion: Ultimately, despite Leicester's frustration, the referee called the incident correctly. "It was a great spot from the referee but so hard on Leicester," Niall Quinn told Sky Sports.
"Leicester deserved to be back in the game, they deserved to get to 2-2, they were the better team in the second half and they got their chance. For it to be snatched away from them in a quirk of fate like that is really tough."
However, there may have been another element of controversy, with Leicester boss Craig Shakespeare pointing to encroachment from Man City players as a reason for the spot-kick to be re-taken anyway.