Leicester boss Craig Shakespeare says Man City opener should have been ruled out
By Gerard Brand
Last Updated: 13/05/17 4:51pm
Leicester manager Craig Shakespeare said Man City's first goal in the 2-1 victory at the Etihad should not have been awarded.
Goals from David Silva and Gabriel Jesus gave the hosts the win, though the Spain international's opening goal was controversial, with Raheem Sterling in an offside position and thought to be interfering with play.
Riyad Mahrez also had a two-touch penalty disallowed late on, and though Shakespeare admitted it was ruled out by the letter of the law, he said the spot-kick should have been brought back by encroachment by two Man City players in the box.
Shakespeare told Sky Sports: "My interpretation of it is that once he makes an attempt to play the ball he is active. He's in the framework of the goal, so I'd expect that one to be given offside.
"Yes, as soon as a player makes an attempt he becomes active. He's really trying to block Christian too, and he can't make an attempt to block the ball."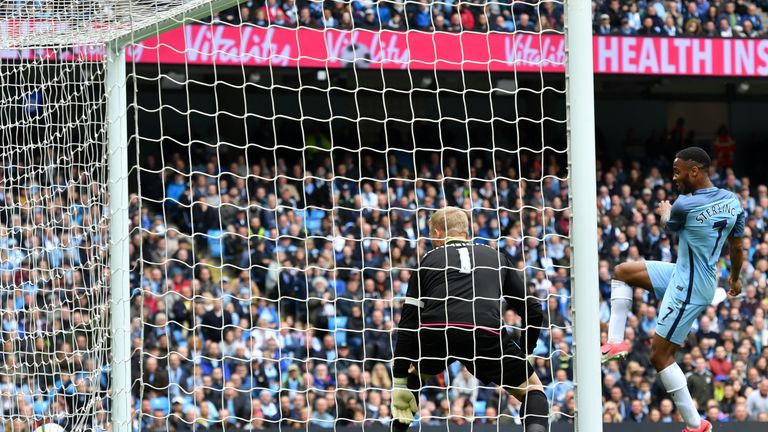 Regarding Mahrez's penalty, Shakespeare said: "To the letter of the law, it states it's a double touch, but I also think he could possibly bring it back for an encroachment from Man City.
"You feel a bit of injustice there, and it's for everyone else to have a look at, but they have two players encroaching, and probably it comes before the double touch. Letter of the law states it could be a retake.
Aside from the two high-profile incidents, Leicester were much-improved in the second half, and Shakespeare said he was delighted with their showing, and insists they are getting "every last drop" out of themselves this season.
"It's bad luck from our point of view, but I'm more pleased with the way the lads went about it second half, we took the game to City and caused lots of problems," the Leicester manager said.
"We looked a bit dejected first half, the two goals took the stuffing out of us, and to get our goal, a quality goal, was the first time we played with any quickness to our play.
"I think the players are getting every last drop out of themselves. The spirit, determination they showed was there for everyone to see."
No decision has been made on Shakespeare's future at Leicester beyond this summer, and the interim manager again insisted he did not know whether he would be in charge next season despite impressing so far.
He said: "I just don't know, I've got to look at it each game, the more important thing is the bigger picture, the club progressing through the league, and we've got to finish the season on a high.
Grab a Sky Sports Month Pass for £25pm for two months and capture an unmissable summer of sport on NOW TV. More live football than ever before, the British & Irish Lions tour and much, much more…