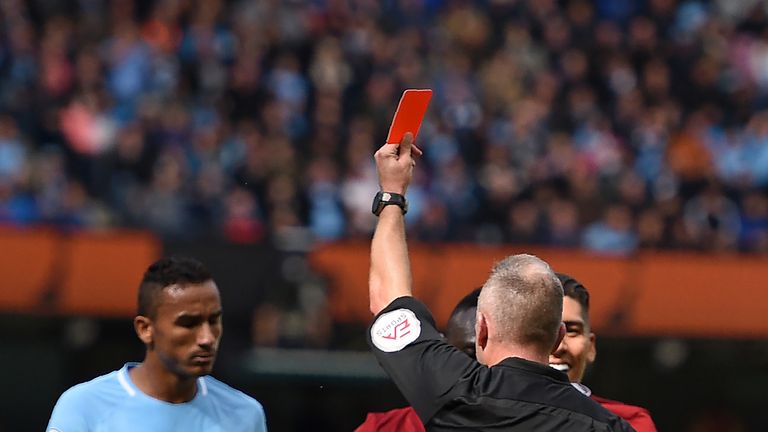 There have been 12 red cards in the Premier League this season - but are we seeing more dismissals than in previous years?
Three players were sent off during the opening weekend, while Sadio Mane and David Luiz have also been involved in high-profile dismissals.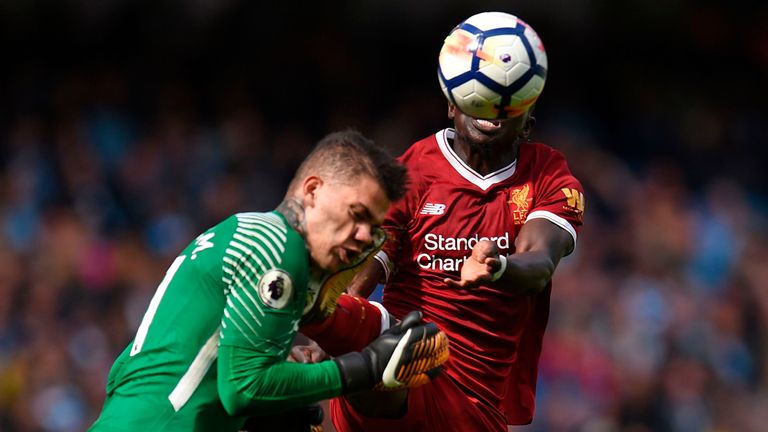 Dismissals in 2017/18
Miguel Britos
Serge Aurier
David Luiz
Raheem Sterling
Marko Arnautovic
Cesc Fàbregas
Kyle Walker
Morgan Schneiderlin
Sadio Mané
Hal Robson-Kanu
Jonjo Shelvey
Gary Cahill
So was the initial flurry of red cards due to a rush of season-opening enthusiasm, overzealous officiating, or do we have more dismissals than in previous seasons?
We checked data from 1992 to present day to find out…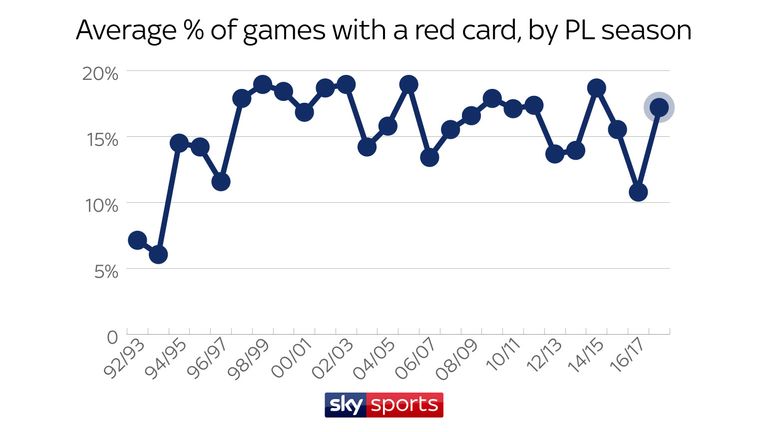 So far this season there has been a red card in 17.1 per cent of games - that's the 10th highest rate during the Premier League era.
That ratio stood at 30 per cent after matchday three, with nine reds from 30 games, which was a league-high ratio at the time - albeit at an early stage.
However, last season produced the fewest dismissals since 1993/94, with only 41 reds brandished (10.8 per cent of games).
The number of red cards soared during the 1994/95 campaign, rising from 28 (six per cent) the previous season to 67 (14.5 per cent).
There was another spike during the 1997/98 season, but the ratio of reds has remained fairly constant since - averaging at 63 per season (16.5 per cent).
Data available for the last four years reveals the majority of red cards are issued for second-yellow offences (84), followed by serious fouls (46), professional fouls (25), fighting (22) and handling on the line (six).
This season, Shelvey, Robson-Kanu and Arnautovic have contributed to an above-average proportion of red cards issued for 'fighting', which is a classification that includes violent conduct.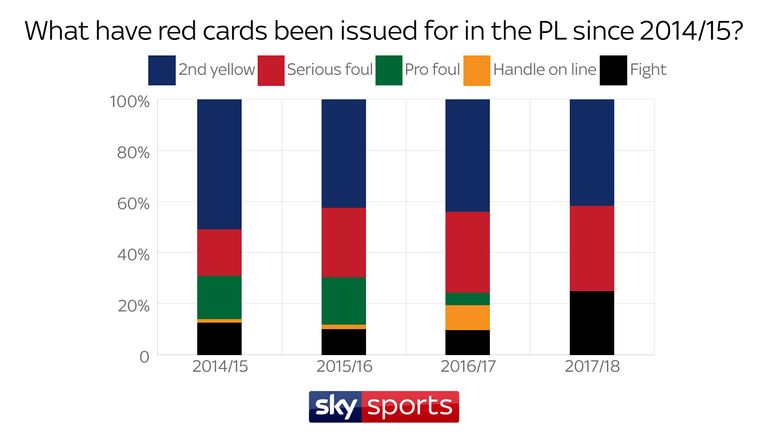 IMPACT OF A RED
Since the start of 2014/15, only Liverpool have overturned a deficit with 10 men and claimed three points.
The Reds were trailing Crystal Palace 1-0 in March last year before James Milner diminished chances of a comeback further after receiving a second yellow in the 62nd minute.
But Roberto Firmino scored an equaliser 10 minutes after Milner's dismissal and Christian Benteke converted a 96th-minute penalty to secure a 2-1 win.
There have been 70 games that were level when a red card was produced - but only three of those teams went on to win the game with 10 men: Tottenham against West Ham (August, 2014), Manchester City against Burnley (January, 2017) and Hull against Watford (April, 2017).
Fourteen of 38 teams that were winning before losing a player ended up dropping points by the full-time whistle.
So the impact of going down to 10 men is severe, but the level of severity depends on how long a team has to play with 10 men.
The graph below shows the average number of goals scored and conceded after receiving a red card - irrespective of goals scored beforehand.
We excluded games that produced more than one red card, or dismissals that resulted in a penalty being awarded and converted.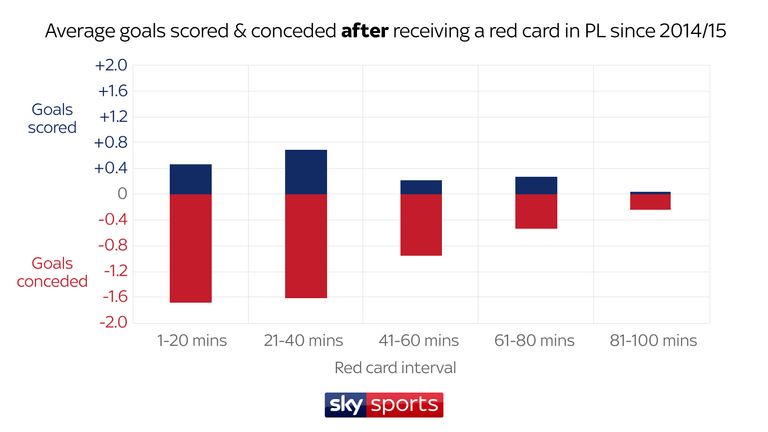 Unsurprisingly, a team is far more likely to preserve a scoreline if they receive a red card after the 60th minute.
A red card between the 61st and 80th minute has occurred on 36 occasions since August 2014, excluding games with more than one red card or dismissals resulting in a penalty.
Of those, the team reduced to 10 men have, on average, conceded 0.53 goals and scored 0.28 goals after the dismissal - a surprisingly fine margin.
In contrast, nine teams have received a red card within the first 20 minutes of a game - conceding 1.67 goals and scoring 0.44.
In total, 52 teams have received a red card between the 81st and 100th minute - and one in four have proceeded to concede a goal, on average.
Only two teams have scored after losing a player during that late interval: Liverpool against Arsenal in December 2014 and Swansea City against QPR in January 2015 - both teams salvaged a point.
TOP CULPRITS
West Ham have collected the most red cards since 2015/16 with 11 dismissals, followed by Watford (nine), Everton, Chelsea, Southampton (eight each) and Arsenal (seven).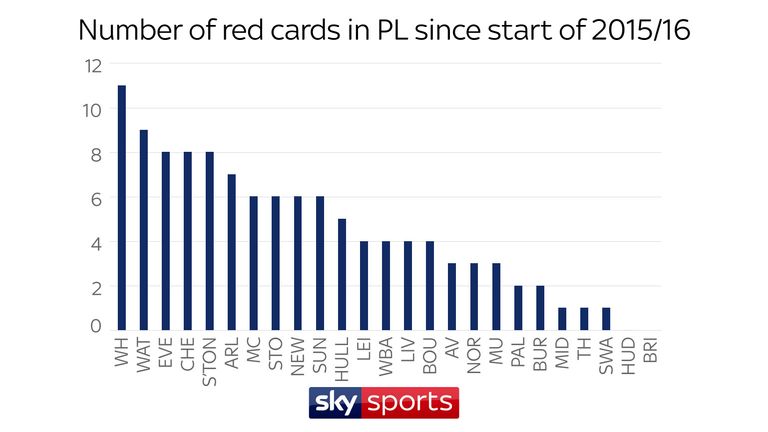 Five players have received three PL red cards since 2014/15
Victor Wanyama
Kyle Naughton
Miguel Britos
Tom Huddlestone
Sadio Mané
So after a red card frenzy in August, not one red was produced during the most recent matchday and the ratio of dismissals has dropped to average levels - but will it stay there?