Nigel Pearson slams referee after Leicester's 2-2 draw with Nottingham Forest
Nigel Pearson lashed out at the officials after Leicester were denied victory against Forest by a controversial penalty.
Last Updated: 11/11/12 7:53am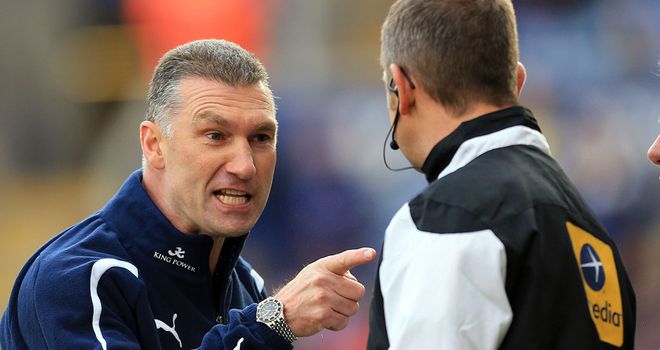 Zak Whitbread was pulled up for a foul in the 66th minute that Pearson was furious about, Forest scoring from the spot to secure a 2-2 draw at the King Power Stadium.
"It should not be a penalty. It was a perfectly good challenge. He got the ball and the referee is in a very good position to see it," Pearson said.
"If he cannot get that right it is laughable. It is about time these people became accountable.
"There is a team of four people out there and we need to utilise the four of them. I have seen the incident on television again and basically it is a good challenge from Whitbread.
"I think the players have done well today and played pretty well. We did enough to win the game but unfortunately we have had that opportunity taken away from us by other people who have not done their jobs properly.
"We should have had three points but we haven't. Forest getting the second equaliser took the impetus out of the game. I don't think we have had a fair deal today.
"I am not anti-officials, but they need as much help as they can get. So give the fourth official a worthwhile job or don't bother with them."