Leicester explain decision to go ahead with Middlesbrough game on Friday
Leicester City have issued a statement in reaction to fans' anger following chaotic scenes on Friday night.
Last Updated: 21/01/13 2:08pm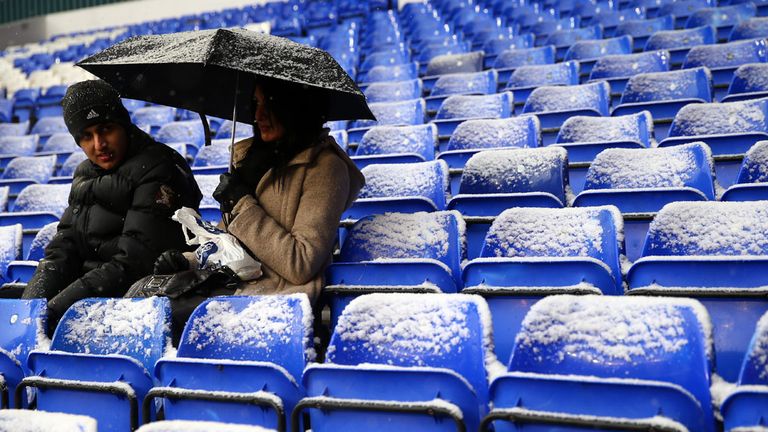 Leicester's 1-0 win over Middlesbrough was attended by only 8,585 people as adverse weather conditions prevented fans, many of whom were stranded in their cars, from getting to the game.
Over 20,000 tickets were sold for the clash and many home supporters were angry that the match was not called off by the club.
The statement said: "The club is very mindful that, due to the weather-related conditions on Friday night, a large number of fans were unable to attend the game, as they had planned.
"The club understands the disappointment of these fans and would like to take the opportunity to clarify the procedures and regulations surrounding the fulfilment of games, so that all of our loyal supporters have a complete and accurate understanding of the obligations of all clubs when hosting a home fixture, and the circumstances of last Friday in particular.
"In anticipation of adverse weather in the build-up to Friday night's game, the club took every possible precaution to ensure that the fixture went ahead, while liaising regularly with the Football League, the match officials, the relevant local authorities, Middlesbrough Football Club and supporters.
"Such advance planning - including the provision of additional personnel, resources and equipment throughout the day, coupled with the outstanding efforts of the club's grounds, stadium and safety staff, ensured that King Power Stadium was fully operational, despite the onset of heavy snow during Friday afternoon, in the hours prior to kick-off.
"It is the club's responsibility to ensure that the King Power Stadium is in an appropriate condition for its home fixtures to be fulfilled. As a consequence of the successful preparation, the match officials decided that the game should go ahead, albeit with a delay to the kick-off time to allow for Middlesbrough's disrupted journey.
"While we appreciate that, very regrettably, the adverse weather made it difficult for a significant number of supporters to attend the game, only the match officials, the city's Safety Advisory Group or the police can initiate a postponement.
"The club would like to express its sincere appreciation to the supporters that did make it to the game and contributed to an important result for the team, which subsequently saw us finish the weekend in the automatic promotion places."