Leicester boss Nigel Pearson says they can play better despite 1-0 victory over Derby
Leicester City manager Nigel Pearson admitted his side can play a lot better despite beating Derby County 1-0.
Last Updated: 17/08/13 7:34pm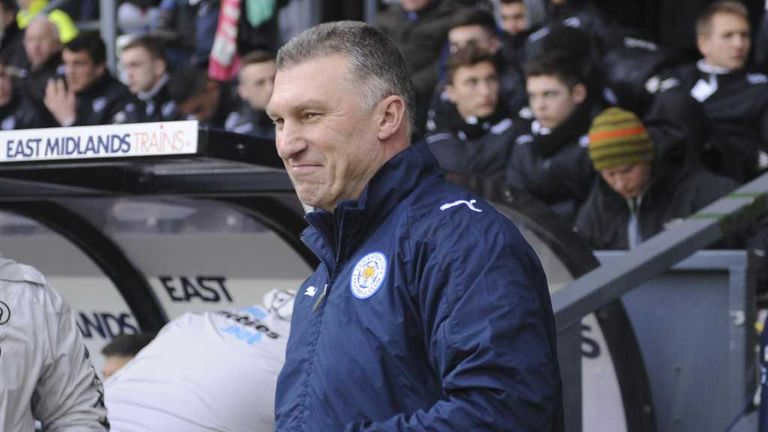 The victory means Leicester have won their opening two away League games in a season for the first time, and Grant's unlucky touch in the 35th minute was enough to end Derby's unbeaten start to the campaign.
Grant could do nothing when a goal-line clearance by Paul Coutts from a James Vardy flick cannoned off his back and went in after Liam Moore had headed down a corner.
Derby had plenty of possession but created few clear chances although Kasper Schmeichel made important saves from Craig Forsyth and Kieron Freeman, while Derby also had penalty claims for a shove on Chris Martin rejected.
Pearson said: "This season is another where, after missing out in the fashion that we did last season, there's always going to be the question mark as to whether the players come back in a good enough frame of mind to be able to challenge again for promotion in what is a very difficult league to operate in.
"We've started the season okay but performance wise we still have a lot to do. We didn't play particularly well today, I think Derby managed the ball very, very well but ultimately we've come away with the three points. I'm not going to moan too much but we are a lot better than that.
"I'm pleased to get three points today, whether we deserved it or not is debatable, I think if I were sitting in Nigel's (Clough) place I would probably feel very hard done by but the one thing I would say is that for all their possession they didn't create a lot of goal-scoring opportunities.
"I look at the positives, it's a clean sheet, we've won, there's room for improvement and it's nice to get two away wins. I wasn't aware of that (the record) and I'm surprised but it's a nice one to have."
Derby manager Nigel Clough said: "We had a great start to the game, we were on the front foot and were creating chances and then around the time of the goal they came back into it. But 10 minutes into the second half, I thought we controlled the last 30 minutes and played some very good stuff.
"There were lots of nearly moments in the game for us but I thought it was a good enough performance to get something from the game and if you deal with the corner, the bare minimum you come out with is a nil-nil and you keep the unbeaten run intact and move on.
"I think defensively they are one of the best sides and one of the most difficult sides to score against but we certainly had enough situations that we didn't quite turn into chances but we had enough in the second half to get a goal.
"There were a lot of good things in the game, I thought both sides tried to play a lot of good football today and it was a very good East Midlands derby.
"We are okay, we are in good spirits, we know we've played well again and we are happy with the squad and the way we are trying to play. We've had a little setback and we will use that as an incentive to try and go on an unbeaten run before the international break."