King Power King
Leicester's Andy King discusses keeping things interesting and bouncing back from play-off woe.
Last Updated: 19/12/13 4:47pm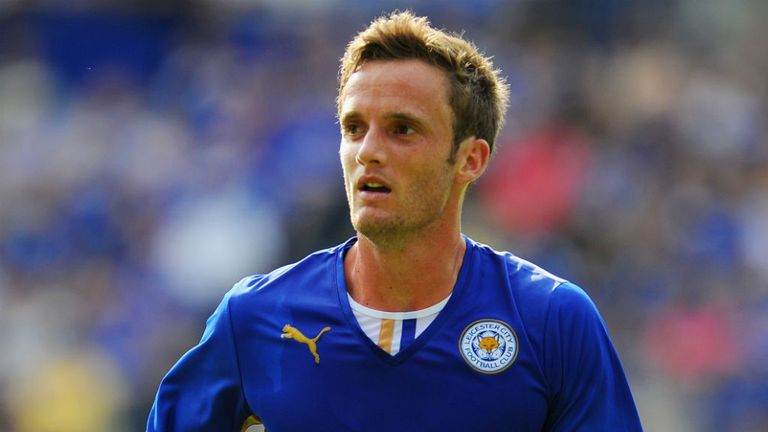 The 2013/14 campaign is now well under way, with divisions beginning to take shape.
Here at Sky Sports we will look to take you to the very heart of the Football League over the coming months, with our Spotlight features intended to give you a greater insight into the clubs and players that keep us on the edge of our seats.
We hope to bring you the views and thoughts of a representative from each of the 72 teams over the course of the season, with those involved asked to give their take on the division they compete in, the club that pays their wages and those we should all be keeping an eye on.
Leicester's Andy King is next into the hot-seat, with the Foxes midfielder taking time out to discuss keeping things interesting and bouncing back from play-off heartache with Chris Burton.
Is it fair to say that things couldn't have gone much better so far?
I think the only disappointing thing is that the games that we haven't won, we probably feel we should have done better in. But, all in all, having come back from the way that last season ended, I think the boys have responded brilliantly and we're really looking forward to this season and playing some really good stuff at the moment.
You have shown that you know how to grind out results haven't you - five wins in seven and all by the odd goal?
It's a weird one, we keep winning 2-1 at the moment. Not that anyone is complaining. But we are playing really well for 70-80 minutes, should really be out of sight, but then we'll concede one at the end. That's just the nature of this league and other teams come back into it. We are doing well, we are grinding out and holding out for wins when maybe in the past we might have dropped points.
The Wigan game is the only one you have won by more than one goal, you're helping to keep things interesting aren't you?
It is weird. In a lot of the games that we have only won by a goal, we have probably been more deserving than that scoreline suggests. A lot of the time we could have been out of sight. In this league, it's a tough league, every team is always going to have chances. If there is a thing we need to work on, maybe we need to start taking chances when they come and make sure that we do put ourselves out of sight - so when the late charge comes we don't really have anything to worry about.
You are conceding, so clean sheets are maybe another area to work on aren't they - as you're scoring two or more goals in most games?
In terms of that, it's a whole team ethic. That's what we will be working on. The defence have always been brilliant for us and keeping clean sheets and scoring goals is a whole team thing for us. As long as we're winning, we're happy.
You have shown real character given how last season ended, was that something that was discussed over the summer - the need to bounce back strongly?
Not really. We had to go away and just try to get it out of our minds. It took a bit of time, but since the boys have come back for pre-season we've been fresh and everyone was raring to go as quickly as possible. We wanted to get that out of the system. People still think about it sometimes but it's driving us on this year to make sure it doesn't happen again.
How long does it take for something like that to get out of the system and for disappointment to be replaced by determination?
It takes a while, maybe until you start playing football again. If you speak to anyone after they have lost a game, the thing they want is for the next game to come as quickly as possible. For us to have the whole summer to think about it and what could have been was really hard. But the boys came back for pre-season raring to go and the way we have started this year has shown great character.
You must have all felt like you needed a break, the rollercoaster ride of the highs against Forest to the lows against Watford - it was one extreme to the other wasn't it in a very short space of time?
It was. That's the nature of the Championship. Unfortunately it didn't happen for us that year, we have just got to make sure that we are in a position that we can take our chances and hopefully finish as high up the league as possible this year.
The gaffer doesn't seem like the type of person to dwell on the past, I imagine he has dragged you all along with him hasn't he?
Yeah, of course. He wouldn't let anyone dwell on that. I'm sure he was happy with the response he got in pre-season - the boys came back fit. He was as disappointed as anyone at the end of last year, but it's about this season now. We can't think about the past, neither can anyone else. That's gone and it's about doing the job this season. So far, we have been able to do that.
In an ideal world you'd avoid the play-offs this year and go straight up, but as a club you would take it wouldn't you because you feel you have been away from the Premier League too long?
Of course. Everyone here thinks we have been out of the Premier League for too long. It's set up to be a Premier League team, but it's down to us as players to make sure that we try and get there. Everyone is working hard. We have made a steady start, but it's only a start because it's such a long season. We have got to make sure that we keep our form going all the way through the year and hopefully finish as high up as possible.
On a personal level, you have already got a couple of goals under your belt, are you aware of the need to weigh in and help the strikers out?
Of course. It is always nice to try and score a few goals early on in the season. Fortunately I have been able to do that, as have a few of the players. We have spread the goals around a bit so far this season, but the main thing is about winning games. Whoever is scoring is going to be pleased, but it's a squad game and we have a good experienced squad that is behind each other.
I take it you are enjoying your time at Leicester, as there is always going to be speculation about your future?
I think if there is speculation, that means you are doing something right. It means you are playing well. That's obviously a good thing. But like I have always said, I want to play as well as I can for this club and the dream is to get this club into the Premier League.
And you're obviously hoping that your future includes further international recognition, do you feel there is optimism there as well once Wales get everyone fit and firing?
Definitely. The last two results we had at the end of what was a disappointing qualifying campaign were really positive. To go away to Belgium the way we did, with a much-changed squad, and get a positive result and play really well was massive - not only for the players, but for football in general in Wales. We're all optimistic that the next campaign, with the players that we've got and if we can get them all available and playing, that we have got a real chance.
And is Chris Coleman the right man to take things forward, you don't want to be shaking things up again do you?
I think he has done a really good job. People keep saying that he has been so unlucky with the injuries - I don't think he has had one game in charge where we have had all of the players fit and ready to go. He has done well with what he has had at the time and he has been a bit unlucky as well throughout the campaign - things could have gone a little bit different for us. With the way the boys played in the last few games, they showed that we're behind him and we're really looking forward to the next campaign now.